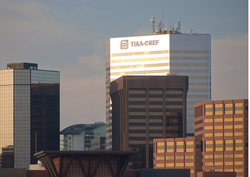 Global Pensions | 25 May 2011

Raquel Pichardo-Allison

SWEDEN/US – Swedish pension buffer fund AP2 and US pension fund manager TIAA-CREF have formed a joint venture targeting agricultural real estate.

The funds will invest primarily in grain production assets in the US, Australia and Brazil.

AP2 will invest $250m while TIAA-CREF will serve as majority shareholder and administrator.

Officials at AP2 said the investment will serve to diversify the SEK220bn ($35bn) portfolio. TIAA-CREF, which managed a portfolio of $400bn, could not immediately be reached for comment.

"TIAA-CREF has a well-developed platform for agricultural investment where environmental considerations and social responsibility are integrated. The Second AP Fund has carried out a comprehensive sustainability analysis of TIAA-CREF's guidelines, policies and processes and considers that they are of very high quality," AP2 said in a release.

AP2 chief executive Eva Halvarsson added: "We anticipate that the newly established company's investments will promote productivity gains and long-term, well-managed and profitable agriculture that, in a sustainable manner, will help meet the growing global demand."
---
Pensions & Investments | May 25, 2011
AP2, TIAA-CREF to cultivate grain farmland investments
By Drew Carter

AP2, Gothenburg, Sweden, and TIAA-CREF will form a joint venture to invest at least $500 million in grain farmland in the U.S., Australia and Brazil, according to the 220 billion Swedish kronor ($34.6 billion) fund's website.

TIAA-CREF will serve as majority shareholder and administrator of the new company, according to AP2. TIAA-CREF spokeswoman Abby Cohen declined to comment.

AP2 is investing in farmland for stable returns that are uncorrelated to other asset classes.

Further information was not available at press time.

Contact Drew Carter at [email protected]