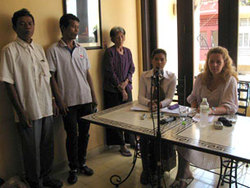 Cecilia Wikstrom at the press conference with an interpreter and victims of land-grab standing on her right side.
Deutsche Presse Agentur | 20 May 2011 | français
Phnom Penh (DPA) - A member of the European Parliament said Friday she would push for the European Union to suspend trade preferences for Cambodian sugar after meeting villagers who had been evicted to make way for huge concessions.

Sweden's Cecilia Wikstrom, who was on a private visit to Cambodia to learn about human rights and land grabbing, said the European Union's Everything But Arms (EBA) trade initiative had been abused by sugar companies owned by senators from the ruling Cambodian People's Party.

'This leads me to the conclusion that the sugar issue in this country is a 'blood sugar' story,' Wikstrom said, explaining that some villagers had shown evidence of being beaten.

The EBA initiative allows low-income countries to export certain goods to the EU with zero tariffs and no quotas. Sugar producers are also guaranteed a minimum price for their crop.

But last year rights groups asked the EU to suspend preferential access for Cambodian sugar after reports that well-connected concession holders were pushing thousands of rural people off their land. Over the past two years nearly 90,000 hectares of land have been handed out on 99-year leases.

The EU has in the past withdrawn a number of nations from the programme after finding evidence of systematic and serious violations.

Wikstrom said her visit indicated the Cambodian sugar trade was generating serious rights abuses.

'It leaves a very bitter taste to see what the sugar companies are doing to poor people in this country, so I put part of the blame on the sugar companies,' she said. 'Having said that, I blame totally and even more the authorities that are allowing this to happen.'

She said Phnom Penh had not delivered on an October promise to investigate how the EBA programme was affecting the rights of rural people.

'As far as I understand, nothing has been done,' she said, adding that she had met with several senior government officials including Deputy Prime Minister Sok An.

Government spokesman Phay Siphan said Wikstrom had not had sufficient time to learn the full facts, and claimed most villagers in concession areas were satisfied with their situation.

'She acts like a spokesman for the opposition party,' Phay Siphan said. 'She has based (her findings) on what she heard from a minority of those people and misleading (information) from the opposition.'

Kong Suon, a villager from Koh Kong province, representing 252 families, said villagers had lost more than 1,700 hectares of land to the Koh Kong Sugar Company in 2006. Despite numerous applications to local and national authorities and to the courts, their voices had not been heard.

'Now there is no land for people to grow crops and tend their cattle,' he said. 'If we don't have land, there is no choice – we have to die.'

Wikstrom said the process of suspending Cambodia's access would be long.

'But one thing is for sure: the EU has committed to specific moral standards, and when they are severely violated, as I have experienced in this country, we need to address it accordingly,' she said.