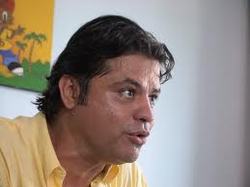 Wilson Arias said people forced off land are scared to return and will likely sell to big farm companies
Reuters | Mon May 23, 2011

• Colombia aims to double farmland for food, biofuel
• Looking to Brazil's savanna as a model
• Worries over palm oil plantations, land rights

By Mica Rosenberg
BOGOTA, May 23 (Reuters) - Colombia plans to nearly double agricultural land growing crops for food and biofuel, part of a new investment boom in the country as violence ebbs from a decades-long internal conflict fueled by drug profits.

The idea is to transform the vast eastern plains, dotted for years with illicit coca plantations, into the country's bread basket in a push to bring down food prices and boost revenues from agricultural exports.

But first Colombia will have to overcome serious infrastructure problems and concerns about land rights after millions of people have been displaced by violence.

Global food prices soared to a record in February and while they have fallen since then, many experts say they will stay high as populations grow faster than farmers can feed them.

Latin America could help buck that trend as the region in the world with the most land still available and suitable for agriculture after Africa.

Colombia has 53 million acres (21.5 million hectares) that could be planted with crops such as corn, soy, African palm and sugar but just 12 million (5 million) are currently being used, says the agriculture ministry.

Already the world's top grower of high-quality washed arabica coffee and No. 5 in palm oil, Colombia is mostly self sufficient in food production but imports more than 3 million tonnes of corn each year for animal feed. The government wants to grow enough corn to cover up to half of domestic demand.

Large swaths of the Andean nation were off limits for years as drug runners, leftist guerrillas and right-wing paramilitary groups battled over territory. But a U.S.-backed crackdown has helped cut coca planting, which fell 13 percent last year compared to 2009 to 145,000 acres (59,000 hectares).

Colombia is still the world's No. 1 coca grower. Violence remains a problem, including bloodshed over land rights, but security has opened up the possibility of farming in once avoided areas.

"Colombia is one of the few countries left that can expand agriculture into new areas, not everyone can do that, and also improve productivity," Agriculture Minister Juan Camilo Restrepo told Reuters.

He said there are 10 million acres (4 million hectares) perfect for conversion to farmland in the eastern plains, a region known as the Orinoquia. In the next four years, the government wants to plant a quarter of that, spending up to $5 billion, with hopes the private sector will invest even more.

Colombia also has a huge expanse of cattle pastures, 93 million acres (38 million hectares), but is not a major beef exporter. The government wants to shrink cattle land to free it up for farming, producing the same amount in less space.

STOLEN LAND

The development will not happen overnight -- it could take eight to 10 years -- but that is a fraction of what it took Brazil to become a global agricultural powerhouse.

Colombia's Orinoquia has acidic soils similar to those of Brazil's central savanna, which were converted into vast fertile soy plots with heavy investments in lime and fertilizers.

Such techniques concern environmentalists, but Colombian agronomists are eager to learn from Brazilian experts. Since 1991, Brazil's national production of grains nearly tripled while planted area only increased about 30 percent.

A lack of investment in research left Colombia behind neighbors like Brazil and Argentina, another top soy producer. Both countries are now cashing in on a commodities boom.

"It's very sad to see a country that can benefit big (from high food prices) not taking the opportunity that it has in its in hands. That's why I am so excited to see Colombia addressing some of these critical bottlenecks," said Ethel Sennhauser, World Bank's regional manager for Latin American agriculture.

"Colombia has the potential to become a big player in future agriculture markets," she said.

One hindrance raising the cost of exports is poor infrastructure, a legacy of years of conflict. Also, torrential rains and flooding have battered the country for months, damaging roads which must be fixed before new ones can be built.

Another hurdle lies at the root of Colombia's internal conflict: land rights. Some 10 million acres (4 million hectares) have been taken from peasants by heavily armed paramilitaries, drug lords and ranchers.

President Juan Manuel Santos is proposing reforms to return stolen plots to their rightful owners while giving legal titles to more than 1.2 million informal property holders. But the handover could prove dangerous for land rights activists, with nine killed during the first six months of Santos' term.

The government also wants to increase plantings of African palm and sugarcane by 20 percent for biofuel and says there is plenty of land to avoid a competition between food and fuel.

But human rights groups are wary of palm oil's expansion after hundreds of Afro-Colombians were chased from their land by paramilitary groups with links to drug lords.

Leftist lawmaker Wilson Arias said people forced off land are scared to return and will likely sell to big farm companies.
"The land will be taken back from criminals but it will not necessarily go back to the peasants," he said.

(Additional reporting by Peter Murphy in Brasilia; Editing by Frank Jack Daniel and Alden Bentley)