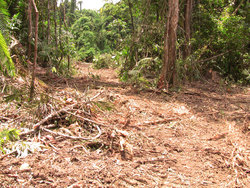 The land affected by the deals contained large areas of unlogged native forest
The Australian | May 21, 2011

Paul Cleary

MORE than 10 per cent of Papua New Guinea's land mass has been handed over to foreign and national corporate interests over the past seven years under mysterious land deals that appear to be aimed at logging native forest.

Colin Filer of the Australian National University calls it a "land grab". His research shows customary land has been secured by corporate interests via lease, leaseback arrangements.

Since 2003 about 5.1 million hectares of customary land has passed into corporate control by abusing a mechanism in the PNG land law designed to allow for customary landowners to agree to so-called special agricultural and business leases.

This is twice the amount of land grabbed by corporate interests across five African countries over a comparable period, according to one international study, yet institutions such as the World Bank have largely ignored these events in PNG.

Professor Filer has shown how the Western and West Sepik provinces have lost 20 per cent of their land to these arrangements. In three other provinces the area ranges from 11 per cent to 15 per cent.

Last week Acting Prime Minister Sam Abal called for a suspension of the agreements and launched an inquiry. He said all forest clearance authorisations would be suspended until the inquiry was complete.

"The commission will investigate the grant of special purpose agriculture and business leases, covering some 5.2 million hectares of customary land, to ensure all legal requirements have been followed and that the leases are being used for the purposes intended in the legislation," Mr Abal said.

PNG's new opposition leader and former forests minister Belden Namah criticised the launch of the inquiry. The local media then revealed that a company connected to Mr Namah already held such a lease and was logging in his electorate.

Professor Filer, who has researched natural resource development in PNG for decades, said the land affected by the deals contained large areas of unlogged native forest. He doubted whether the companies behind the agreements were interested in food or cash crop production, suggesting they were more likely to be looking for "new ways to log PNG's native forests without following the rather onerous procedures imposed by PNG's forestry legislation".