Reuters | 19 May 2011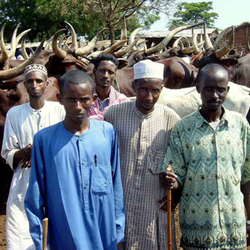 Patoralists in Cameroon.
By Alphonso Toweh
MONROVIA, May 19 (Reuters) - Malaysian conglomerate Sime Darby said on Thursday it plans to invest about $3.1 billion over 15 years in its Liberian oil palm plantation project and expects production to begin by 2015.
"We hope to start production in June of 2015," said Sime Darby's board chairman Tun Musa Hitam, in Liberia for the launch of the 220,000-hectare project.
"The entire operation in Liberia will cost us $3.1 billion over 15 years," Hitam said.
The West African country is reconstructing its economy, devastated by civil war, and has offered nearly half a million hectares of land for palm plantations.
The Sime Darby project employs about 2,000 people, with plans for more when production starts.
Singaporean palm oil producer Golden Agri-Resources said in September that its subsidiary Golden Veroleum would form a $1.6 billion partnership with the Liberian government on another 220,000-hectare palm plantation project.
Sime Darby, the world's biggest listed planter, has said it was scouting more land for plantations as palm prices remain high.
Hitam said the company remained in talks with the government of Cameroon on a project estimated to be worth $2.1 billion.
"We are still in the initial stage of identifying the suitable land in Cameroon. After the feasibility study, then we will start," Hitam said.
He did not say when the feasibility study would be completed.
(Writing Bate Felix; editing by David Lewis and Dale Hudson)