BBC News | 17 May 2011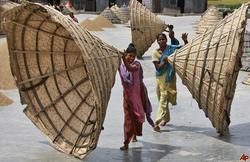 Bangladeshi woman remove rain covers from rice after the harvest at a farm on the outskirts of Dhaka, Bangladesh, May 20, 2010. The covers keep the rice dry during the rainy season. (Photo: AP/Pavel Rahman)

By Anbarasan Ethirajan

Bangladeshi companies say they have leased thousands of hectares of farmland in Africa as part of their efforts to avoid future food shortages.

Two Bangladeshi companies have already signed deals to lease unused cultivable land in Uganda, Tanzania and Gambia.

Another agreement to lease around 30,000 hectares for 99 years will be signed with the Tanzanian government later this week.

Officials say African countries have huge amounts of unused cultivable land.

At the same time they say that Bangladesh has the manpower and expertise to produce staple crops all year round.

'Food security'

Under the plans, the Contract Farming System will enable Bangladeshi companies to get at least 60% of the produce.

In return Bangladesh will train African farmers in rain-fed rice cultivation, seed conservation and irrigation.

It is hoped that the new arrangement will increase food productivity and enable the country's expanding workforce to be deployed in Africa's farming sector.

"Basically this idea is mainly for proper management of our food security," said Wahidur Rahman, a senior Bangladeshi foreign ministry official.

"We are thinking of expanding our agriculture, but we do not have enough land to cultivate. Because of this we are thinking Africa may be the destination for our agriculture production."

Bangladesh is the world's fourth largest producer of rice and it harvested around 34 million tonnes last year.

Although the country produces enough to feed its population of 160 million people, it faces shortages at times because of natural disasters.

Officials say apart from rice there is also scope to cultivate other crops such as wheat and cotton in Africa.