ColomboPage | 18 May 2011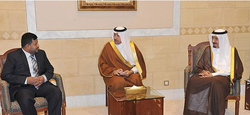 Riyadh Gov. Prince Salman, right, receives Sri Lankan Minister of Industry and Commerce Rishad Bathiudeen, left, in Riyadh on Tuesday. (Photo: SPA)

Riyadh: Sri Lanka's Minister of Industry and Commerce Rishad Bathiudeen has invited leading businessmen in Saudi Arabia to invest in Sri Lanka without hesitation as the end of the ethnic conflict two years ago has paved the way for increased business opportunities.

The visiting Sri Lankan Minister has met Riyadh Governor Prince Salman in Riyadh on Tuesday and held discussions to promote investment in upcoming projects in Sri Lanka, the Arab News reported.

The Minister has pointed out that tourism, garments industry, cultivation of fruits and vegetables, and gem and jewelry are promising areas of investment which would yield attractive gains.

Bathiudeen has said that Sri Lanka can be a place for the Kingdom to grow agricultural crops.

"We also can cultivate agricultural crops for Saudi Arabia," Bathiudeen has said.

He has added that items manufactured in Sri Lanka could find a ready market in all SAARC countries under the existing Free Trade Agreement.

The Minister has noted that the tourism has grown remarkably since the end of the war due to the prevailing peace.

Minister Bathiudeen has also held talks with the Saudi Minister of Water and Electricity Abdullah Al-Hussayen and expressed interest in exchanging experience in desalination and water management programs with the Kingdom.

The Arab News said the Minister Bathiudeen will call on his Saudi counterpart, Commerce and Industry Minister Abdullah Zainal Alireza when he visits Jeddah on Thursday.

He is also expected to meet senior officials of the Organization of the Islamic Conference and the Islamic Development Bank during his stay in the Western Province.