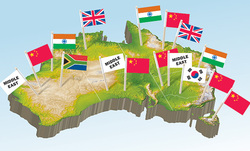 Weekly Times | March 31, 2011
Leslie White

FOREIGN ownership of Australian land and agribusiness will soon be monitored.

In Federal Parliament last week, Nationals agriculture spokesman John Cobb succeeded in his move to establish a register of foreign purchases.

WHO OWNS THE MAJOR AGRIBUSINESSES?

• BEEF
JBS Swift (Brazil), Marubeni Mitsubishi (Japan), Nippon meats (Japan)
• DAIRY
Bonlac (New Zealand), Burra Foods (Japan), National Foods (Japan), Parmalat (Italy)
• FRUIT AND JUICE
Berri (Japan), Golden Circle (US)
• VEGETABLES
Cedenco (Japan), Heinz (US), McCain (Canada), Simplot (US)
• SUGAR
CSR (Singapore)
• RICE
Sunrice (to be sold to Spain)
• GRAIN
AWB (Canada), Cargill (US), Melbourne port terminal (Japan/Canada), Simitomo (Japan), Viterra (Canada)
• BACON AND SMALLGOODS
Food Investments (UK)
• STOCKFEED
Millmaster (UK)
• AGRI-CHEMICALS
Bayer Cropscience (Germany), Farmoz (Israel), Syngenta (Switzerland)

Mr Cobb's move came after The Weekly Times last week revealed that no one knew how much of Australia's farmland was owned by foreigners.

Mr Cobb had spoken in support of a register during last year's federal election campaign but did not have support from the Liberals.

Mr Cobb's motion means the Australian Bureau of Statistics and ABARES will collect information on foreign ownership and the Productivity Commission will recommend safeguards to protect food security.

However, the motion does not mean any foreign purchases will be refused.

Meanwhile, The Weekly Times can reveal foreign companies own significant or dominant stakes in the processing and/or marketing of dairy, beef, wheat, vegetables, fruit juice and sugar as well as the vital stockfeed and chemical sectors. Furthermore, Australia's only rice processor is set to be sold overseas.

Nationals Senate leader Barnaby Joyce said Australia was at risk of becoming a "nation of wage-earners in someone else's paddock".

Senator Joyce said the sale of Australian agricultural processors and marketers overseas was "distressing, because I've never seen us buy one back".

"It's terribly disappointing that we're now having an inquiry into problems in wheat marketing," Senator Joyce said.

Other countries could secure control of "wheat, wool, beef, and milk at the exclusion of the Australian people", he said.

Mr Cobb said he was for foreign "investment, but not takeover".

The Foreign Investment Review Board admitted it did not know which companies were owned by whom. Its response to questions from The Weekly Times was that it could not supply information on what food processors, chemical and fertiliser companies were owned by overseas interests.

A spokesman for assistant treasurer Bill Shorten said the ABS was asked to gather information on foreign ownership last November.

Liberal Senator Richard Colbeck has won support for a Senate committee to examine the food-processing sector.