AFP | 17 May 2011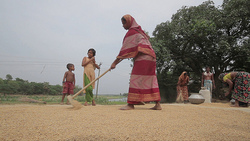 Photo: IFPRI

DHAKA - BANGLADESH has leased tens of thousands of hectares of farmland in Africa as part of a government drive to improve food security in the poverty-stricken South Asian nation, an official said on Tuesday.

Two Bangladeshi companies have leased 40,000 hectares of land in Uganda and Tanzania and another firm will sign a deal for a further 10,000 hectares in Tanzania this week, foreign ministry director Farhadul Islam said.

'The government strongly supports companies leasing farmland in Africa. The aim is to bring most of the farms' output back to Bangladesh to ease food shortages,' he told AFP.

Bangladesh's 150 million citizens have been hit hard by sharp increases in the price of rice, the staple grain, which was up by an average 50 per cent year-on-year in April, according to official figures.

The country was once self-sufficient in rice, but industrial expansion and population growth mean farmland has been eaten up by factories and new residential areas.

Over the last few years, Bangladesh has become a major importer of rice and wheat, with grain imports up 86 per cent year-on-year to US$882 million (S$1.1 billion) for the last seven months of 2010, according to the central bank.