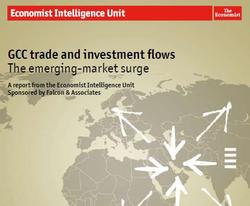 FinFacts Ireland | May 16, 2011
By Finfacts Team

The Arabian Gulf countries are shifting their trade and investment focus from developed to emerging markets, especially in Asia, according to new research.

By 2009 the emerging-market share of Gulf Cooperation Council (GCC) trade had reached 45%, according to the Economist Intelligence Unit, up from 15% in 1980. This share has been rising by an average of 11% per year between 1980 and 2009, compared to only 5% a year for GCC trade with OECD countries.

The region's shift from developed to developing countries as trading and investment partners is explored in a new report from the Economist Intelligence Unit, GCC trade and investment flows:The emerging-market surge. The report, which was commissioned by Falcon and Associates, a Dubai-based company, focused on trade and investment flows into and out of the GCC countries (Bahrain, Kuwait, Oman, Qatar, Saudi Arabia and the United Arab Emirates).

The analysis of data—sourced from several international organisations and from the Economist Intelligence Unit—was supplemented by 14 in-depth interviews with senior business executives, academics and investment experts.

Following are the key findings of the report:
Emerging markets will drive global growth in the years ahead. Around two-thirds of the world's economic growth will be generated by emerging markets in the next five years, according to Economist Intelligence Unit forecasts. By 2015, emerging markets are projected to account for 41% of global GDP, compared to an estimated 31% in 2011;
The emergence of India and China and the growing economic importance of sub-Saharan Africa present massive opportunities for the GCC. The GCC has opportunities to develop as a base for expanding operations of multinationals in Africa and South Asia. To capitalise on these opportunities, GCC countries will need to strengthen their labour markets and improve their regulatory environments;
Asia will be the most important emerging-market region for the GCC. This is partly due to rising Asian demand for oil, but goes beyond energy. Growing domestic demand in Asia, fuelled partly by an expanding middle class, will produce a host of new opportunities for trade. Tourism, one of the GCC's competitive strengths, is already benefiting from the growing Chinese middle class;
China is expected to be the GCC's most important economic partner by 2020. India, which has historical and cultural links with the GCC, will also be a significant trading and investment partner. South Korea, Singapore, Malaysia and India will remain important as providers of technology and know-how for the GCC states. The latter already have an abundance of capital, but will seek to attract direct investment from Asia to benefit from technology transfers;
Trade with Africa will focus on agriculture. As most GCC countries import most of their food, they are naturally interested in investing in Africa's arable land and establishing export-oriented farming businesses. However, GCC investors are increasingly aware of legal and political risks associated with such investments;
Most GCC investments in emerging markets will focus on tried and tested areas of competitive strength, chiefly energy and services industries such as port operations, tourism, retail, financial services (especially sharia-compliant finance) and telecoms;
In Asia and some parts of the Middle East, GCC countries will invest heavily in infrastructure. Large populations and a shortage of capital in Asia provide an ideal opportunity for the GCC to fill the gap. In the Middle East, growth in Iraq has put a strain on the poor infrastructure, creating further investment opportunities. Tourism and telecommunications, as well as the housing industry, offer attractive opportunities for GCC investment in Asia and the Middle East;
While the opportunities are significant, the rise of new economic powers also means new competition. OECD companies and markets will remain important economic partners for the GCC, especially in knowledge-intensive sectors, but will need to work harder to maintain an edge.

GCC trade and investment flows: The emerging-market surge (pdf)