NZ Herald | 13 May 2011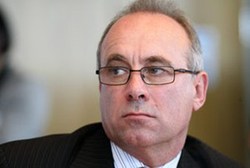 Fonterra chairman Sir Henry van der Heyden says New Zealand's farmland is a strategic asset that should be protected from foreign ownership. For Brazil, however, where Fonterra is buying farms, he says land is not a "strategic resource"
By Owen Hembry

Dairy exporter Fonterra is expanding in South America with plans for a pilot dairy farm in Brazil.

The farmer co-operative said it was in the final stages of plans to buy land to develop a pasture-based pilot dairy farm - which it said was in line with a strategy to establish best practice farms in fast growing economies of Asia and Latin America.

Chief executive Andrew Ferrier said the company's investment would be the first step in developing a source of high-quality fresh milk in Brazil to support its joint venture with Nestle in South America, Dairy Partners Americas.

"We have already invested through [Dairy Partners Americas] in helping to improve the efficiency of dairy farming in Brazil," Ferrier said. "This pilot project will allow us to develop and test the right model for our own dairy farming operation."

Brazil was Latin America's largest economy, with 200 million people, Ferrier said.

"The growing and increasingly prosperous population is driving strong demand for fresh dairy products," he said. "This demand will be met by milk produced locally."


Fonterra said it had signed a conditional sale and purchase agreement to buy an 850 hectare farm in the mid-west of Goias State in Brazil and was conducting final due diligence with a view to concluding the sale next month.

Fonterra planned to develop two milking platforms with a total herd of 3300 cows, producing milk by late 2014, and intended to develop more farms in Brazil if the pilot was successful.

Meanwhile, Fonterra was developing a second dairy farm in China and was conducting a feasibility study into a joint venture farm in India.

A memorandum of understanding had been signed with Indian Farmers Fertiliser Co-operative to jointly conduct a feasibility study into a pilot dairy farm in India.

Global demand for dairy was growing by 2 per cent a year, Ferrier said.

"New Zealand milk will always be our top priority," he said.

"While New Zealand milk production is forecast to grow at a long term average of 2 per cent [to] 3 per cent, we are looking offshore to supplement this and ensure we meet the growth potential for dairy globally."

Fonterra sourced 6.6 billion litres of milk overseas last year - about 31 per cent of the total.

Federated Farmers Dairy chairman Lachlan McKenzie said Brazil was the world's fifth largest country by land area and population. "These are solid reasons for Fonterra to build on its partnership with Nestle by creating its own local liquid milk supply." McKenzie said.

To ensure the integrity of the Fonterra brand, Federated Farmers would prefer to see the pilot farms branded away from Fonterra, McKenzie said. "Federated Farmers will be working on behalf of our members, to verify if there is strategic value to shareholders before anything moves beyond the pilot stage," he said.

Fonterra chairman Sir Henry van der Heyden at last year's annual meeting said he was a passionate advocate of keeping control of New Zealand's pastoral land and productive resources. "I want to see as many farms as possible stay in local ownership, supplying milk to Fonterra."

Speaking yesterday, van der Heyden said every country should have the right to protect their strategic assets. "Now I don't believe in Brazil land is their strategic asset," he said. "Most countries know what their strategic assets are."
Brazilian farm
* Agreement to buy an 850 hectare farm.
* Plans for a total herd of 3300 cows.
* Producing milk by late 2014.
* More farms intended if pilot is successful.