Gulf News | 13 May 2011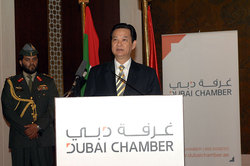 UAE Business Forum 2009
By Deena Kamel Yousef

Dubai: UAE investments in Vietnam have reached $3 billion (Dh11.03 billion) and are set to surge with local companies considering opportunities in agricultural lands, real estate and energy, according to Vietnamese government officials and local investors.

The UAE spent $130 million in direct investments in Vietnam, while additional indirect investments such as joint ventures and securities brought the total figure to $3 billion, said Vo Hong Phuc, Vietnamese Minister of Planning and Investments after signing a Memorandum of Understanding with Emirates Gate Investment yesterday. "The aim is to facilitate UAE entrepreneurs to invest in Vietnam," he said, adding that a host of UAE firms are already investing in Vietnam and more continue to show interest.

"Investment from the UAE to Vietnam is modest but I see potential for the future," he told reporters after the event. Key investment sectors include manufacturing, energy and infrastructure, he added.

Total foreign direct investment (FDI) flows into Vietnam were $11 billion in 2010 and grew by 17 to 18 per cent, primarily from Japanese and Korean investors, he said. FDI constitutes 25 per cent of the Vietnamese economy.

However Vietnam is plagued by high inflation, poor legal and financial systems, and corruption, which make it a difficult environment for investors.
"Vietnam tried to contain high inflation rates and the government is trying to contain it," he said. "We are aware of the issues of corruption and the legal and financial system. The government is adopting policies to cope with the issue."