NZ Herald | 12 May 2011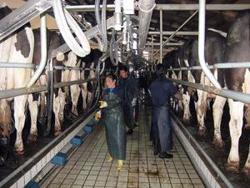 Fonterra's farm in Hubei Province, China.

Fonterra is in the final stages of plans to purchase land to develop a dairy farm in Brazil, it said today.

The co-operative said it had signed a conditional sale and purchase agreement to purchase an 850 hectare farm in the mid-west of Goias State in Brazil, with a view to completing the sale next month.

The intention was to develop two milking platforms with a total herd of 3300 cows, which would be producing milk by late 2014, Fonterra said.

Its chief executive Andrew Ferrier said Fonterra's investment in the pasture-based dairy farm would be the first step in developing a source of high quality fresh milk in Brazil to support Dairy Partners Americas (DPA), Fonterra's South American joint venture with Nestle.

Brazil is Latin America's largest economy, with 200 million people who were driving strong demand for fresh dairy products, Ferrier said.

"We have already invested through DPA in helping to improve the efficiency of dairy farming in Brazil," Mr Ferrier said.

"This pilot project will allow us to develop and test the right model for our own dairy farming operation."

Ferrier said global demand for dairy products was forecast to rise steadily.

The Food and Agriculture Organisation of the United Nations predicts there will be an additional 2.3 billion people by 2050, requiring a 70 per cent rise in agricultural production.

"Demand for dairy around the world is growing by 2 per cent per annum," Ferrier said.

"New Zealand milk will always be our top priority. While New Zealand milk production is forecast to grow at a long term average of 2 per cent - 3 per cent, we are looking offshore to supplement this and ensure we meet the growth potential for dairy globally.

"Developing sustainable, high quality milk supply for key customers in rapidly developing economies such as Brazil and China is a powerful way of achieving our strategy of being the natural source of dairy nutrition for everybody, everywhere, every day.

"We are sourcing more milk overseas - 6.6 billion litres last year, or around 31 per cent of our total. Our international farming operations are in line with this strategy of complementing New Zealand milk."

Fonterra has already developed a successful dairy farm in China and is conducting a feasibility study into a potential large-scale joint venture dairy farm in India.

Fonterra established its 6000-cow Tangshan Fonterra Farm in China in 2007 and last year announced plans to develop a second farm in Yutian County.