USFSA | 9 May 2011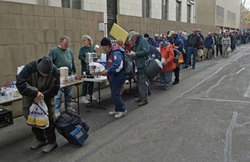 by Tristan Quinn-Thibodeau

Chicago — Leaders of anti-hunger, faith, food and farm groups from across the U.S. are highlighting the dangers in a convergence of some of the world's leading agribusiness and investment firms for the World Agricultural Investment Conference at the Wyndham Hotel in Chicago on May 9 and 10, 2011 (www.aginvestconference.com/usa). Topics covered at the conference, the admission for which starts at $2,500, range from commodities futures to global land markets. According to one conference spokesperson, "There are limited regions in the world which have sufficient land with good agri-production climates and potential. These regions are still relatively low priced so the future capital gain opportunity is very good."

Critics of the conference, led by the US Food Sovereignty Alliance, a US-based alliance of food justice, anti-hunger, labor, environmental, faith-based, and food producer groups, point to the discrepancy between the need for investment in agriculture to curb hunger and support the livelihoods of food producers and food workers versus the investments promoted at the conference, which involve extracting more natural resources and wealth out of rural communities. The Alliance asserts the major role of practices such as agricultural commodities speculation and foreign land investments in perpetuating the world food crisis.

"We support investment in agriculture, but the question is investment by and for whom? Many of the firms involved in this conference are the very ones who have been contributing to food price volatility through rampant commodity speculation and who have been displacing farming and indigenous communities throughout the Global South through massive foreign land acquisitions, better known as 'land grabs,'" said Christina Schiavoni, Global Movements Program Director at WhyHunger and a founding member of the US Food Sovereignty Alliance. "Now these firms are coming together to swap strategies and to explore new frontiers for exploiting what remains of the world's agricultural resources. Upon examination of the conference materials, it is clear that those most impacted by these types of "agricultural investments"—namely small-scale farmers, fishers and indigenous peoples—have been left off the agenda."

When asked what real investment in agriculture would look like, Schiavoni points to the following measures featured in the Call to Action to End the Food Crisis endorsed by several thousand organizations and individuals (outlined in further detail atwww.usfoodsovereigntyalliance.org and www.usfoodcrisisgroup.org):

• Stabilize and guarantee fair prices for farmers and consumers globally through regulation of commodity markets and the establishment of publicly-owned food reserves;
• Rebalance power in the food system through antitrust enforcement and other measures to reduce the influence of agribusiness corporations on public policy;
• Make agriculture environmentally sustainable through farm policy and investment reform, including purchasing and procurement incentives;
• Respect, protect and fulfill workers' rights for farmworkers and other food system workers; and
• Guarantee the right to food and build healthy, local, and regional food systems that foster social, ecological and economic justice at home and abroad.

U.S. advocates add that they are not alone in their criticism of the World Agricultural Investment Conference. In fact, the conference was first brought to their attention by international counterparts concerned by its implications for global food security. Just days before the conference, a workshop for African farmers' organizations held in Mfou, Cameroon, from May 4-5, 2011, denounced "harmful agricultural investments and financial speculation that are capturing local peoples' productive resources, imposing environmentally disastrous industrial models of production, and implementing policies and programmes that undermine local food systems and food security." The organizers of this event stressed that family farmers meet up to 80% of Africa's food needs and account for the bulk of investments in the sector. "It is their efforts that need to be supported, not the profit-making prospects of private investors."

Contacts:

Christina Schiavoni, [email protected] (212) 629-9788

Stephen Bartlett, [email protected] (502) 896 9171

The US Food Sovereignty Alliance (USFSA) works to end poverty, rebuild local food economies, and assert democratic control over the food system. We believe all people have the right to healthy, culturally appropriate food, produced in an ecologically sound manner. As a US-based alliance of food justice, anti-hunger, labor, environmental, faith-based, and food producer groups, we uphold the right to food as a basic human right and work to connect our local and national struggles to the international movement for food sovereignty.