Sudan News Agency | 9 May 2011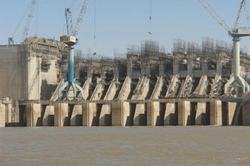 Merawi dam on the River Nile in northern Sudan.

Khartoum, May 9 (SUNA) - The Arab Investment and Export Credit Guarantee Corporation, its coverage estimated at 1.5 billion dollars, has pledged to exert more efforts to expand its operations in Sudan and to cover exports' security and credit at the level of all Arab investors in Sudan.
The Minister of Finance and National Economy Ali Mahmud discussed, at his office Monday with the Director of The Arab Investment and Export Credit Guarantee Corporation Dr. Fahad bin Rashid Al-Ibrahim, the available opportunities of investment in agricultural, livestock, mineral, gold and oil sectors.
The minister lauds the efforts being exerted by the authority to boost and enlarge its operations in Sudan, asserting commitment of the ministry to extend the required facilities for the support of its activities.
Dr. Al-Ibrahim, meanwhile, underlined that the authority would spare no efforts to fulfill its pledges to Sudan, referring to the rise of the Sudan share in the volume of coverage allotted to the member countries which reached to 30%. The coverage included export guarantees and import credit in the fields of electricity, industry, transport, water and some strategic commodities.
He pointed out that the size of the authority's current coverage in Sudan amounted to 1.5 billion dollars and the applications submitted and now under consideration were at value more than one billion dollars.
Dr. Al-Ibrahim said that the economic and security stability in Sudan along the available potentialities altogether encourage extension of more coverage for the commitments.