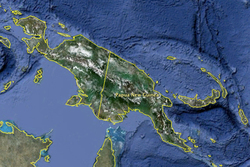 Papua New Guinea, as viewed from Google Earth, covers the eastern half of the island of New Guinea, as well as other Pacific Islands.
mongabay.com | May 06, 2011

The government of Papua New Guinea yesterday suspended its controversial Special Agricultural and Business Leases program which has granted logging and plantation development concessions to mostly foreign corporations across 5.2 million hectares of community forest land, reports the Courier-Post.

The leases (SABLs) emerged as a hot political issue in Papua New Guinea, where 97 percent of land is communally owned. In some cases SABLs were granted without permission or knowledge of the local community, a direct violation of Papua New Guinea's Lands Act. SABLs allow companies to clear forest without complying with existing forestry regulations.

Acting Prime Minister Sam Abal said the government would immediately suspend leases and launch an official inquiry. He cited "concern" for the rights and interests of customary landholders.

"The Commission will investigate the grant of Special Purpose Agriculture and Business Leases, covering some 5.2 million hectares of customary land to ensure all legal requirements have been followed and that the leases are being used for the purposes intended in the legislation," Abal said in a statement.

"Further, all Forest Clearance Authorities granted under the existing leases are to be suspended until the Commission of Inquiry process has been completed. "This is to ensure that forest areas are not cleared where there may be no guarantee that genuine agricultural projects will follow."

The move comes after local protest and complaints from prominent scientists, including the Association for Tropical Biology and Conservation (ATBC), the world's largest professional society devoted to studying and conserving tropical forests. Last month ATBC urged the government to declare a moratorium on SABLs.

William Laurance, a scientist at James Cook University and a member of ATBC, applauded the decision.

"This is a wise move by Acting Prime Minister Sam Abal," Laurance told mongabay.com. "There's a great deal of nervousness in PNG about these SABLs, given their long-term nature and the fact that they're mostly held by foreign corporations. Many PNG residents call them "land-grabs."

Laurance added it is now critical that Abal appoint "truly independent people—not industry puppets" for his Commission of Inquiry.

Laurance also highlighted the role of independent media in reporting on the SABLs issue.

"Thank goodness for the Courier-Post Newspaper in PNG, which has been investigating this issue thoroughly," he said. "The National newspaper, which is the other major paper in PNG and is owned by the Malaysian logging giant Rimbunan Hijau, has supported the SABLs or been tacitly silent."

Special Agricultural and Business Leases in PNG (click for larger view)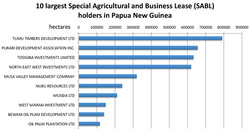 Chart by mongabay.com.