The Peninsula 2011 | 4 May 2011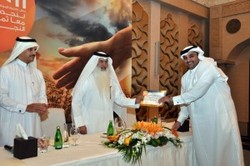 Hassad Food
Chairman Nasser Al Hajri congratulating one of the company's employess, 2010 (Photo: Hassad Food).


DOHA: Qatar will make more investments overseas to produce key agricultural and horticultural commodities to ensure food supply security at home and will simultaneously focus on raising self-sufficiency in local produce.

State-backed Hassad Food Company said yesterday it will invest in producing several fruits--including banana and pineapple--and staple food items like non-basmati rice and cooking oil, among other things. The company is busy conducting studies to assess the viability of the above-said projects. Partnerships with other GCC countries and countries outside the region cannot be ruled out.

The environment minister, H E Abdullah bin Mubarak Al Medadi, has meanwhile, said the world financial crisis and greenhouse effects, both man-made problems, were to blame for the yawning food crisis globally. "Governments across the world, agencies as well as individuals must come forward and work hard to reverse the problem," he said, the Qatar News Agency reported. He was speaking on the sidelines of a meeting of experts from the GCC and Asean-member countries here yesterday. The lurking food crisis poses a real threat to human beings all over the world, said the minister.

Qatar has a National Food Security Program already in place and its focus is on ensuring food supplies from abroad as well as putting emphasis on raising self-sufficiency of local agricultural produce.

Qatar has set up institutions and policies to deal effectively with the problem of food security. The focus is on creating partnerships with other countries in food production, said the minister. The minister also talked of encouraging the private sector to play a more active role in food production and supplies.
A number of papers were presented at the GCC-Asean meeting yesterday and one of them was on 'Investment in the Agricultural Sector in Qatar'. Experts from the two sides (GCC and Asean) are looking at the possibility of cooperating in the field of food production and supplies. The meet ends today.