Vientiane Times | 22 April 2011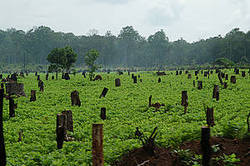 Photo: Nick Cox
The granting of land leases and concessions for some investment projects is unacceptable, as some projects negatively impact on the environment and livelihoods of local people.

This was the message from President of the National Land Management Authority (NLMA) Kham-ouan Boupha at a meeting held in Vientiane on Thursday.

He said Laos stands to lose more than it gains if concession projects negatively impact on the country's environment.

This includes concession projects in protected and watershed areas, and areas where local people earn a living.

For some projects, land concession fees are as low as US$1 to US$3 per hectare per year, while others are US$4 to US$6 per hectare per year.

Mr Kham-ouan said the duration of concession projects is often very long, meaning the country does benefit much.

In addition, the compensation for villagers who lose their land due to such projects is unreasonable.

"I don't think Laos gains from concession projects that cause social and environmental losses," he said.

The meeting was attended by officials from all provinces to review the advantages and disadvantages of projects that convert land into capital and investment.

Land officials also sought possible solutions to address shortcomings to ensure sustainable development and improvement of people's living standards.

Laos is a mountainous country with limited flat land, meaning that the amount of usable land is small but the demand for it is very high.

The aim of converting land into capital and providing land concessions is to amass funding to build infrastructure and alleviate poverty.

However, implementation of these projects causes a lot of problems due to the lack of land surveys and proper land allocation.

The NLMA has sent technical officials to work with local authorities to inspect projects that convert land into capital and land concessions into investment.

Lessons need to be learned from other countries that were once rich in natural resources: after their resources were exhausted these countries remained poor.

"Our Party has stated that land must be used in a sustainable manner, minimising the negative impacts on people and the environment," Mr Kham-ouan said.