Arabian Business | 24 April 2011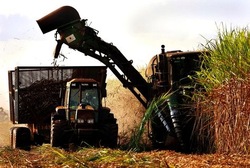 By Andy Sambidge

Sultan Bin Saeed Al Mansouri, the UAE's Minister of Economy on Sunday hailed the recent visit of a UAE delegation to Australia as a valuable step forward in economic relations between the two countries.
He said in comments published by state news agency WAM that it would "open new prospects for cooperation in the fields of innovation, research and development, technology, agriculture and livestock production, petrochemicals and others".

Part of the delegation was Khadem Al Darei, managing director and vice chairman of Al Dahra Agriculture, who said: "The visit identified attractive investment prospects in Australia and plenty of opportunities to share experiences and insights, as well as opportunities in the agribusiness where we are keen to import livestock and fresh and frozen meat from Australia, in order to satisfy the local demand.

"We also discussed possibilities of investing in agriculture lands to produce basic commodities to support the strategic reserve of the UAE."

In the UAE, the government and private companies have looked to lease and buy farmland to help ensure domestic food supplies.
Like other Gulf states, the UAE suffered in 2008 when international food prices spiked to record levels, forcing up import bills.
Al Mansouri said: "We expect even closer cooperation and more mutual investment opportunities as an outcome of this extremely fruitful meeting."
To ensure continuity of cooperation with the Australian side at the same pace, the Ministry of Economy has adopted an integrated follow up mechanism to oversee the developments in bilateral relations between the two countries on both public and private sector levels.
Mohammed Ahmed Bin Abdul Aziz Al Shihhi, Undersecretary of the Ministry of Economy, added: "We have agreed with the Australian side to adopt a follow up mechanism that insures implementing all the projects and cooperation highlighted during the visit."
Officials agreed to increase the supply of meat from Australia to UAE markets to satisfy the needs of the local market and specifically during the holy month of Ramadan.