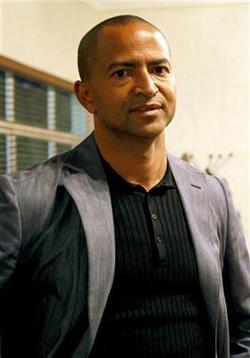 Moise Katumbi, governor of Democratic Republic of Congo"s mineral-rich Katanga province, poses for a photograph during a Reuters interview in the provincial capital Lubumbashi November 15, 2010. (REUTERS/Katrina Manson)
Reuters | Fri Apr 22, 2011

By Jonny Hogg

LUBUMBASHI (Reuters) - A provincial governor in the Democratic Republic of Congo has offered about 14 million hectares of farmland to large-scale farmers to boost agriculture in the mineral-rich Katanga province.

Moise Katumbi, governor of mineral-rich Katanga, said the province must diversify into agriculture to become self sufficient and export some of its produce.

Katumbi said the land was available following an agreement with local tribal chiefs, who are custodians of the land.

The province in the south-east of Congo is better known for its huge mineral reserves, which have attracted major mining companies including Freeport McMoran and Anvil Mining.

"Our future is in agriculture, not mining," Katumbi told Reuters in an interview this week, adding that farmers who take up the offer would also be offered tax breaks.

"Katanga is the size of France, and with only 10 million people there is free land," he said, adding that he was determined to end the province's dependence on imported food.

Farmland in many developing countries has attracted foreign investors, but a U.N. Food and Agriculture Organisation official last year urged African governments to avoid rushing into big land lease deals with investors or risk deepening poverty and ramping up social tensions.

Katumbi said Katanga had cut its dependence on food imports to 30 percent from 98 percent since 2006 and that farmers from South Africa had already arrived. The offer for land is not new but has largely been ignored up to now, he added.

Decades of dictatorship and conflict in the DRC have left Katanga's infrastructure in a dilapidated state and its population trapped in poverty, with 13 percent suffering from malnutrition, according to the U.N. World Food Programme (WFP).

INADEQUATE INVESTMENT

"I think the conditions for producing food are better here than in neighbouring countries; (here) they have land, water, people," the WFP's country head, Abdu Dieng, told Reuters.

Governance issues that blight Congo's development are less of an issue in Katanga, Dieng said, but he added that the central government's investment in the agricultural sector -- less that 2 percent of the national budget -- was inadequate.

"There is more involvement and better fund management by the provincial government than anywhere else in the country," he said.

The environmental conditions may be perfect for farming in Katanga, but the business climate remains a problem, said Luc Asosa, an official with U.S.-based development agency PACT, adding that corruption remains a big issue for investors.

"Mining is quick money, but it's not long-lasting. The reality is people are eating bananas imported from Zambia, and we have the same climate as them. That's not right," he said.

Governor Katumbi, who has run the province since 2006, said mining employs too few people to fight poverty. He also breeds antelopes to restock one of the province's national parks in an attempt to lure tourists.

"Really for us, (the aim of the offer) is to give each person in Katanga enough food, and then one day export to Europe and Africa," he said.