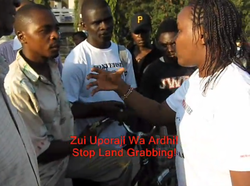 Not everyone would agree with ACT (still from a
video
by ActionAid Tanzania)
Tanzania Daily News | 18 April 2011
Finnigan Wa Simbeye

TANZANIA should seize the opportunity of rising food prices by investing in smallholder farmers and allow large scale foreign investors targeting exports, Agriculture Council of Tanzania (ACT) Chairman, Salum Shamte has said.

Mr Shamte who is Managing Director of Tanga-based Katani Limited, said rising food prices provide an incentive to local farmers who must be given access to loans and improved farming technologies.

He said the country has enough arable land to accommodate foreign investors but also advised authorities for ensure such investments benefit the country.

"Whenever you negotiate with any foreign investor you must know your own interests and make sure that you get what you want.

Food security is a necessity for any country. But after we secure our food needs and people want to import our surplus I do not see a problem," Shamte said.

A number of foreign investors including multinational corporations from Asia, and the Middle East are looking for prime land to cultivate food crops targeting their home markets which activists warn may threaten the country's food security.

Saudi Arabia has already been allocated 500,000 hectares of land while China's Chongqing Seed Corp has secured 300 hectares. South Korea and the government are jointly developing paddy rice scheme at Rufiji basin while Daewoo, Mitsubishi, Qatar and Kuwait are seeking hundreds of hectares to grow food.

Shamte who heads the country's largest commercial agriculture association, said the country needs exports for its development and food exports are going to be very lucrative businesses in the near future. "We would be very foolish not to take advantage of our God given opportunity to be food exporters," he noted.

Tanzania Investment Centre (TIC) Executive Director, Emmanuel Ole Naiko who is an advocate of large scale commercial agriculture, said under Kilimo Kwanza, the country should encourage foreign as well as local investment.

Mr Ole Naiko said recently that decisions by Tanzania Prisons and SUMA JKT to ask TIC to market about 200,000 hectares of their land to foreign and local investors is a move in the right direction.

He said that said Saudi Prince Sultan Bin Saud Al Kabeer who visited the country earlier this year, is the kind of investors that the country needs.

"We are now waiting for them to decide on the choice of farms and agree on the structure of investment and usage of land," Ole Naiko, who is also Vice-President of the World Association of Investment Promotion Agencies, pointed out.