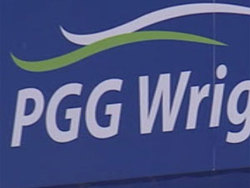 TVNZ | Friday April 15, 2011

Agria has lifted its stake in PGG Wrightson to 50.5%, putting control of New Zealand's biggest rural services company in Chinese hands.

Agria and partner New Hope Group of China have an offer of 60 cents a share open until April 23.

The partial takeover has been endorsed by Wrightson's board and accepted by Pyne Gould Corporation for its 18.3% holding.

Shares of Wrightson rose 1.9% to 53 cents today and have not been above the offer price since February 4.

Agria took an initial 19% stake in Wrightson in 2009, providing much-needed equity when the company was struggling to turn a profit and saddled with too much debt.

Chinese investors in particular have been attracted to New Zealand rural assets, hoping to ride a wave of demand in the world's fastest-growing major economy.

Shanghai Pengxin Group, a Chinese investment company with interests in bio-fuel, fisheries, farming and property development, has sought Overseas Investment Office clearance to buy 16 of the Crafar dairy farms, along with related assets and livestock.

It plans to upgrade the farms over the next two years to lift production, spending some $200 million in total.

Last year, the OIO gave approval for China's Bright Dairy & Food Co. to buy 51% of Synlait Milk Ltd., gaining an independent milk powder producer in the South Island for $82 million.

Shares of Pyne Gould rose 3.5% to 30 cents today.