Al Arabiya | 13 April 2011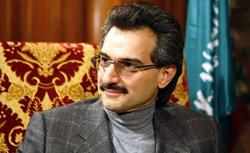 Prince Alwaleed bin Talal of Saudi Arabia
By DINA AL-SHIBEEB
The world's wealthiest Arab, Prince Alwaleed bin Talal of Saudi Arabia, has dismissed allegations that he had conceded land that he had bought to anyone.
According to his spokesperson, Mohammed Sami Jamal al-Din, the prince has offered two options for Egyptian authorities to consider. The first is that he be reimbursed the sum he paid for the 100,000 feddan (420 million square-meter) land, in addition to expenditures his company incurred.
The second option is that he cedes half the land for LE50 per feddan for the youth of the revolution while he retains the remaining land. Authorities have yet to respond to his offer.
The prince's purchase of the land in Toshka in 1998 was approved by the then minister of agriculture Youssef Wali. The land serves as part of a project that pumps water from Egypt's Aswan High Dam reservoir and delivers it via a 30-mile canal to reclaimed farmland 60 kilometers from the Sudan border. This project has long been criticized for failing to create the fertile land that was promised. Egypt's population is estimated at 85 million.
Since the toppling of President Hosni Mubarak on February 11, Egypt's prosecutors have been looking into business transactions of former officials often accused of corruption and widely believed to have monopolized the country's deals for their benefit. Egypt's second largest real estate developer, Palm Hills—which has links to Ritz Carlton, India's Taj Hotels and Dubai's Jumeirah Holding—is one example of a business that the authorities are investigating for alleged wrongdoings. On Thursday, a judicial panel concluded that Palm Hills' purchase of a land in Cairo's suburb was illegal, saying the company paid a sum considerably below market price, adding that the deal should be scrapped. This is not the only allegation Palm Hills faces.
It is accused of selling approximately a 960,000-square-meter parcel of land in New Cairo for a sum below market prices. This deal is said to involve Mr. Mubarak's son, Alaa and his other son's brother-in-law. Palm Hills is believed to have paid $50.27 billion less than the market price for properties measuring 50 million meters in different locations. So far, the government has asked Palm Hills to return 798 million square-meters from its property in Six of October City which represent 1.7 percent of the total land owned by the company.
A financial analyst who wanted to remain anonymous told Alarabiya.net that the government's decision on Palm Hills had created ripples in the real estate sector. Prices for building material have reduced, and developers are heading to Gulf states.
It is not just real-estate developers that are under authorities' microscope. Ahmed Ezz, the founder of one of Egypt's biggest publicly traded steel producers, Ezz Steel, and a close Mubarak ally, was arrested in February for illegally creating a monopoly. Along with 45 other companies, Ezz Steel was also banned from trading in the bourse for failing to meet disclosure supplies on whether they have assets or shareholders under investigation. The company resumed trading on March 24. (Dina Al-Shibeeb of Al Arabiya can be reached via email at: [email protected])