North Queensland Register | 3 April 2011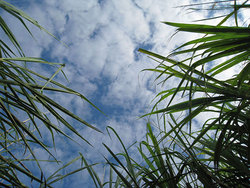 Photo: ABC/Di Martin
by IAN MORGAN

ALTHOUGH Wilmar International was only founded in 1991, it is now Asia's leading agribusiness group and ranks among the largest listed companies by market capitalisation on the Singapore Stock Exchange.

Its activities include oil palm cultivation, oilseed crushing, edible oil refining, sugar, specialty fats, grain processing, and oleochemical and biodiesel manufacture.

The company operates more than 300 manufacturing plants and an extensive distribution network across China, India, Indonesia and 50 other countries which support its processing and merchandising business. Wilmar also manufactures and distributes fertiliser, owns a fleet of vessels and employs a multinational staff force of more than 88,000 people.

The company has established an integrated agribusiness model that captures the entire value chain, from growing to branding, merchandising and distributing a wide range of agricultural products to the food manufacturing industry, industrial and consumer food-catering businesses and consumer markets.

Through scale of operation, it is able to extract margins at every step of the value chain, resulting in significant cost efficiencies.

Wilmar is the largest global processor and merchandiser of palm and lauric oils, one of the largest palm oil plantation companies in Indonesia/ Malaysia, and the largest palm biodiesel manufacturer in the world.

Since purchasing Sucrogen from CSR Limited last December, Wilmar is the largest raw sugar producer in Australia; the largest renewable energy producer from bagasse in Australia generating 171 megawatts of electricity annually at its seven sugar mills; the country's second largest producer of fuel ethanol; and through its 75 percent holding in Sugar Australia, the largest refiner of raw sugar in Australasia.

The purchase of Sucrogen also gave the company a significant amount of cane land in the Burdekin which it has since increased with the purchase of additional farms to guarantee cane supply, which has already seen the company outbid local farmers for land.

Wilmar's move into cane growing and sugar milling was prompted by the increasing demand for sugar in the fast-growing economies of Asia where it already operates, as sugar consumption is low relative to developed countries. For instance, mainland China's per capita consumption of sugar is only 25pc that of the Chinese in Taiwan.

One of the conditions of approval placed on Wilmar by the Federal Government when it was given the green light to purchase Sucrogen was it had to honour the company's existing three-year supply agreement with Queensland Sugar Limited.

However, cane farmers are concerned that may not be rolled over and when it expires Sucrogen's raw sugar may be sold by Wilmar, which would more than halve the amount of sugar QSL would have to sell and make it less competitive on the global market.

Time will tell, as the main benefit of QSL handling 90pc of the state's raw exports is that it is able to blend sugar from different export terminals to suit its refiners' requirements, while also organising the shipping to ensure the sugar is dispatched in an orderly manner and no terminal becomes overloaded.

That could be a problem if QSL ceased to exist, as the storage capacity of the six terminals is only 2.46 million tonnes and even last year, the poorest since 1991, there were 3.3mt, produced which was 35pc more than there was room for at the ports.