farmalndgrab.org | 6 April 2011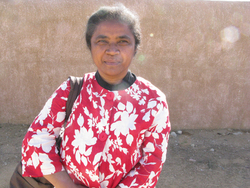 "The government in Madagascar should be working to improve local agriculture and support people in Madagascar to develop sustainable local agriculture not working to sell our lands to foreign corporations," says Mamy Rakotondrainibe of the Collectif pour la Défense des Terres Malgaches
by Stefan Christoff
In Madagascar grassroots struggles against corporate-driven land grabbing have emerged as a political point of focus in the growing global spotlight on land grabs throughout the global south, a process that the U.N. special rapporteur on the right to food says has "negative effects on the right to food as well as other human rights." Mass scale corporate land occupations are expanding throughout Africa, and Madagascar is an example of the intensity of the corporate push for national lands but also on the ability for communities to resist such land grabbing.
Mamy Rakotondrainibe is a key activist in the Collectif pour la Défense des Terres Malgaches and explains the struggle against land grabbing in Madagascar, specifically highlighting the ongoing struggle to cancel an agreement involving the Korean corporation Daewoo Logistics and 1.3 million hectares of national lands in Madagascar. Mamy spoke to Montreal writer and activist Stefan Christoff at the World Social Forum in Dakar, Senegal, in February 2011 for farmlandgrab.org
Listen or download:

Stefan Christoff: Today we are at the World Social Forum in Dakar, Senegal, you are participating in this global event to highlight grassroots struggles in Madagascar against corporate land grabbing, wondering if you could introduce yourself and the organizing work that you do?
Mamy Rakotondrainibe: Thanks for the opportunity to introduce our organization Collectif pour la Défense des Terres Malgaches and our activities to defend Madagascar lands. In 2009 we started the collective following the announcement that Daewoo