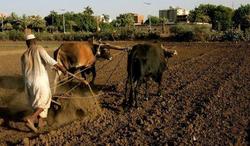 A Sudanese farmer ploughs his field in the capital Khartoum in 2010.
Agence France Presse | 01/04/2011
Around 800 farmers protested Friday against a government decision to seize land from a village in Gezira state, Sudan's agricultural heartland, without compensating the owners, witnesses said.

The protest coincided with a speech by opposition leader and former prime minister Sadiq al-Mahdi, who said the government was facing its own "Tunisian and Egyptian experience."

After Friday prayers in the village of Fudasi, around 160 kilometres south of Khartoum, 800 demonstrators marched to the land that was appropriated by the government to build a university college.

There they confronted a small group of police, burning their tent and demanding that they leave.

More police arrived from the nearby town of Wad Madani to pick up their colleagues and take them away, the witnesses said.

In neighbouring White Nile state, the religious and political leader of the opposition Umma party said the government was facing mounting opposition, despite unveiling a string of populist policies.

"These last days, we have seen many initiatives by the government, such as the establishment of an anti-corruption commission, and Khartoum state's plan to create new jobs for graduates," Mahdi said in a mosque sermon to the Umma faithful.

"But all the evidence suggests that the Sudanese government is facing a Tunisian and Egyptian experience," added Mahdi, who was ousted by President Omar al-Bashir in an Islamist-backed military coup in 1989, three years after being democratically elected.

Sudan has witnessed sporadic anti-regime protests since January, but unlike in Tunisia and neighbouring Egypt, they have failed to gather momentum, with the authorities pursuing a zero-tolerance policy towards any opposition demonstrations and maintaining tight control in the capital.