The Land | 1 April 2011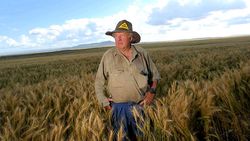 PARLIAMENT has moved to quell some of the anxieties surrounding a perceived foreign buy-up of local land, last week passing a motion introduced by the Shadow Minister for Agriculture and Food Security, John Cobb, regarding foreign ownership of agricultural land and agribusiness.

"This motion gives Parliament the information needed for sensible safeguards. It will ensure the future of Australia's food security and economic interests as they relate to foreign ownership," said Mr Cobb.

"Our motion requires the Government through the Australian Bureau of Statistics and ABARE to collect much needed extra information relating to the levels of foreign ownership in Australia.

"The Productivity Commission will review the information and recommend safeguards for national food security, taking into account not only individual investments but the cumulative impact of foreign ownership.

"While foreign investment has been vital for the development of agriculture in Australia, in the last three years we have seen a ten fold increase. There has been a marked change in the activity by foreign companies from investment in agriculture to ownership and control of supply lines."

Mr Cobb said, "The buy-out of our agribusiness will increase as the world's population is estimated to grow to over 9 billion by 2050. Other countries are already preparing for tighter food supplies by strategically buying into world-wide agricultural supply chains.

"The current rules for foreign investment are outdated and do not address food security. This will not protect our grain industry from foreign control.

"At present the Foreign Investment Review Board is required to investigate agricultural investments above the $231 million trigger. This would almost never activate a review of land purchases and can be too high for some agribusinesses.

"An example of the threat to our farming industries is the buy-out of dairy cooperatives. This has shown that the short-term financial gain to individual members is outweighed by long-term impacts, such as reduced farm gate prices though loss of market power.

"The Labor government has long tried to dodge this important issue but the Coalition has forced them to act by direction of the Parliament.

"Foreign investment has been excellent for agriculture and will continue to be vital. However we need safeguards to ensure our national interest comes first.

"Supply lines must not be controlled by foreign companies or foreign governments." Mr Cobb said.