Interfax-Ukraine | 8 March 2011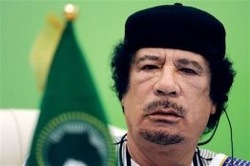 The Verkhovna Rada's committee on agricultural policy and land relations is checking reports that Libyan leader Muammar Gaddafi is renting farmland in Ukraine, according to Radio Liberty.

Currently available are only the documents indicating the intentions of the previous government to fulfill Gaddafi's request to grant him a lease on land plots to grow grain crops, in particular, wheat.

The head of the parliamentary committee, Regions Party MP Hryhoriy Kaletnik, told Radio Liberty that after receiving a response to a formal request, it would be clear how these talks end.

"I can confirm that such reports are really being spread by all structures and people. They are calling various figures - in return for oil extraction. I have sent a formal request to the State Register asking them to give me an official response to these reports - how this was registered and whether this really happened. If answers are not given within a month, this will be a violation, and then we will seek [the truth] in a different way, through the Prosecutor General's Office," Kaletnik said.

Ivan Kyrylenko, the former deputy prime minister in charge of agricultural policy and the leader of the parliamentary faction of BYT-Batkivschyna, in turn, said that there was no information about the successful completion of talks with Gaddafi about land lease.

"I know absolutely nothing about this. I haven't heard anything like this. I know that the talks were held for many years so that grain crops are grown under some conditions – either through joint production or using some other opportunities. But apart from the talks, I have not seen any documents indicating this. I think that if it were to happen, it would be known. This would necessarily involve the conclusion of lease agreements, because sublease is banned in our country," he said.