Saudi Gazette | 5 March 2011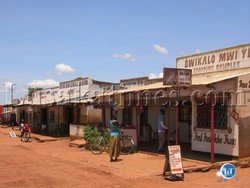 Kisasa area along Solwezi -Mwinilunga road in Solwezi district (Photo: Lusaka Times)

JEDDAH: Saudi company Menafea Holding intends to invest $125 million in a 5,000-hectare farm in Zambia in the North-Western Province this year and in building 2,000 housing units in Lusaka South multi-facility economic zone (MFEZ).

The projects are expected to create employment opportunities in Lusaka and North-Western Province and link up indigenous small-scale farmers to a ready market through outgrower schemes, Zambia Daily Mail said, citing reports in Zambia Development Agency (ZDA) Spotlight publication.

Menafea Holding board member Khaled Alrajhi said the company plans to invest the funds this year and will grow pineapples and build a factory to produce juice.

Alrajhi said Menafea will build 2,000 housing units in the Lusaka South MFEZ under the same agreement, signed with Zambia's investment promotion agency.

"We have been granted 5,000 hectares of land to grow pineapples using the latest technology and are going to put up a factory to produce juice for local consumption as well as for export," Alrajhi said.

ZDA director for investment promotion and privatization Muhabi Lungu said more Saudi investments were expected in Zambia.

Last December, Finance Minister Situmbeko Musokotwane said Zambia did not regard leasing farmland to foreign investors as a form of "colonialism" and was encouraging countries from the Gulf to invest in its agricultural sector.