The Diplomat | March 2011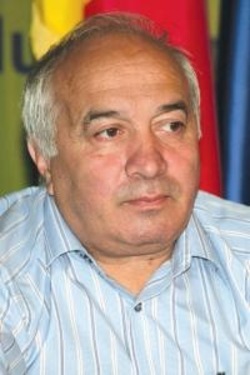 Romania's State Secretary for Agriculture, Adrian Radulescu, says this year Romania's Agency for Payments and Intervention in Agriculture (APIA) will introduce a satellite monitoring system, which will spy on unworked plots.


Could a new law fining farmers who do not cultivate their land help Romania fully exploit its massive agricultural potential? State secretary for agriculture Adrian Radulescu explains this controversial move
Profile by Nicoleta Banila

A great part of Romania's agricultural land is fragmented among small farmers who practice subsistence agriculture, but who cultivate only a small part of their land to ensure food for themselves.
Almost half of Romania's 9.4 million hectares of arable land consist of plots under five acres, which state secretary for agriculture Adrian Radulescu believes must merge into larger areas to become more competitive.
Among these plots is a hefty amount of unworked land - presently between 1.2 and 1.4 million hectares.
To encourage farmers to maximise their potential, the Agriculture Ministry wants to fine all owners of uncultivated arable land 94 Euro per unused hectare per month. This law is likely to pass via an emergency decree and come into effect by 2012.
Radulescu says many farmers asked for this bill because unworked plots are a drawback for their own crops, as weeds from untended land can spill onto neighbouring terrain.
Radulescu denies this is a new 'tax' and calls it instead a 'fine'.
But this imperative of 'plough or pay' is a radical policy change to the Romanian countryside as it shifts the responsibility for food cultivation onto arable landowners.
Nevertheless there will be exceptions.
"We will not find uncultivated land and give fines in a jiffy," says Radulescu. "We will first discuss with the person, to determine the reasons why the land was not worked."
Part of the problem is an ageing farming community. Half a million solo farmers in Romania are over 60 years old. A common scenario is that an ageing farmer does not have enough money to pay someone to work the land. "If the person wants to lease and has no one to lease to, the Ministry can intervene and contact those who would like to rent this land," says Radulescu.
But how can this be policed? The answer comes from space. This year Romania's Agency for Payments and Intervention in Agriculture (APIA) will introduce a satellite monitoring system, which will spy on unworked plots.
If farmers try to sell the land to avoid the fine and there are no buyers, the Village Estates Agency (ADS) will start picking up the plots and consolidating them, so they become more tempting for large-scale buyers.
"Hardly anyone will be interested to buy 0.5 acres or one hectare, and therefore we will try to buy them to merge these plots or exchange them with other owners, by buying a larger surface area to complement it," says Radulescu. "In cases where the owner does not want to sell the land because he wants to watch the thistles grow every morning, we will meet his desire, but with a fine."
The process of consolidating Romania's fragmented agricultural estate is happening, but at a slow pace. Between 2007 and 2010 the cultivated area increased from 6.7 million hectares to 7.2 million hectares and the number of farmers dropped to 1.35 million to 1.18 million.

Straight to market

A critical problem for famers is a lack of distribution channels to bring their products to market. Earlier this year, at a meeting with farmers and agricultural academics in Cluj county, Radulescu said the only chance for Romanian farmers to sell their products is to build their own mini-markets in cities.
"The merchandise is sold directly from the manufacturer, which will exempt the producers from many costs they must pay to enter the supermarket networks, which they most often cannot access because they do not have sufficient quantities and consistent production," says Radulescu.
Already stores selling cheese and meat manufactured in Sibiu county straight from the producer are occupying high streets in Bucharest, banking on a growing appetite for locally sourced food.
Another advantage of producer-run stores is that this scheme avoids the prices producers must pay for a listing on a supermarket shelf, which can add an additional 40 per cent to the value of a product.
However a difficulty is inspiring Romanian farmers to associate. "A Romanian feature is that one Romanian farmer is too few and when two Romanians associate there are too many," says Radulescu. "But life will require them to do so – this is a marriage of interest."
Farmers will also benefit from the Ministry's help to set up the shops, with the Ministry discussing with local authorities to facilitate the acquisition of space. "They will unite in a common interest to try to sell their goods," says Radulescu. "They will always be welcome in such a network and will not have to comply with strict measures [of a supermarket chain], such as being compelled to deliver a certain amount of merchandise."

Higher subsidy hopes

Romania looks set to obtain greater benefits from the Common Agricultural Policy (CAP) reform process – which will be active in 2014 – including a boost in payments for Romanian farmers.
Presently Romanian farmers receive substantially less money per hectare for cultivated land – 130 Euro per month – compared to an EU15 average of 300 Euro and an EU12 of 185 Euro.
This is despite the fact that Romania is part of a common EU market and its farmers are competing with European farms which have been heavily subsidised through CAP for over 40 years. There is a movement to harmonise this system, but this will probably mean a two-tier scheme of high subsidies for the west EU and lower ones for the east.
Radulescu says Romania must lobby to retain this system of payments for farm surface levels within CAP and should boost its financial support to 220 Euro.

Water lack

Irrigation is key to the development of Romanian agriculture. The Ministry is working on a series of measures that aim to make water cheaper for farmers.
This includes establishing with the Ministry of the Environment a scheme to subsidise bringing water for free to a pumping station. The Agriculture Ministry plans to take steps this year in Brussels to secure financial support for irrigation systems, but the biggest problem to improving irrigation is that farmers complain about the prices for electricity they must pay to pump the water.
"We will try to find a solution to bring energy used for irrigation from manufacturers who produce cheaper energy, such as state nuclear and hydro power producers Nuclearelectrica or Hidroelectrica, or even from wind energy," says Radulescu.
To modernise irrigation systems an area that serves many farmers can receive up to one million Euro in EU subsidy through the Water Users Association (AUAI). Radulescu says he wants to maintain this financing vehicle until 2020, with co-financing from the Romanian Government.

Silo monopoly

Another problem is Romania's outdated silo estate from the 1960s, which is difficult to renovate.
This lack of storage space is particularly acute for cereals.
"Unfortunately, modern silos are owned by a few large traders, who bought almost all the storage facilities in Romania, which does a great disservice to farmers," says Radulescu.
He argues that many traders charge far too high prices and sometimes refuse to store farmers' crops, instead insisting on purchasing them. "We want to encourage more farmers to try to build their own silos," he adds.
If farmers can associate, this could help increase the value of their products as they can sell grain all year round.

Million hectares sold off

Multinationals, foreign entrepreneurs and investment funds are now eyeing Romania as a place to develop - the Danish, Spanish, Italian, Swiss and British and even companies from the Middle and Far East have either bought up land as a place to develop agriculture, lease or land bank.
Radulescu estimates that Romania is rapidly approaching nearly a million hectares of land bought by non-Romanians.
"It's hard to talk about because this is a free market," says Radulescu. "I look at it from two angles - as a patriot and nationalist, I believe Romanians should buy their own land, but in the context of globalisation and an integrated Europe, I'd say it's just a question of progress."
Radulescu wants banks to re-establish land credits for Romanians to be able to buy land. The bank would own the land and farmers would pay installments to the bank through a mortgage vehicle over 15 years.

GMO backing

In October 2009, potential Prime Minister Lucian Croitoru nominated Adrian Radulescu as minister of agriculture, but he received a negative vote in parliamentary committees. One reason for the refusal was his support for genetically modified crops (GMOs).
Romania used to be a large scale producer of GM soy until 2007, when EU regulations outlawed cultivation of almost all GMOs.
During an interview, Radulescu said he would rather eat a genetically modified corn-on-the-cob rather than a traditional non-GMO corn, because the latter could be infested with pests.
Radulescu retains his backing for GMOs. "Romania should have two big advantages if it started growing GMOs - a saving of almost one billion Euro and it would not be importing, but exporting soy," he says.

Dodgy stats

In late 2010 the Ministry of Agriculture started an agricultural census to update info on farmed areas, livestock, irrigation systems, the number of farmers and the quality of the equipment.
But Radulescu is unsure about the accuracy of the census, which is due for publication in March.
"I have doubts over how much the Romanians declare," he says, "because they still live with the fear of the past and don't have the courage to declare all that they own - because they are afraid of taxes and fines. This is silly, because through the census we only want to know the exact number of animals and plantations - to have a clear vision for our future direction."

Who is Adrian Radulescu?

Farmer, academic and politician Adrian Radulescu is a veteran voice on Romanian farming and agribusiness, as well as a key political insider.
Born in 1955 in Malaiesti, Prahova county, he graduated from the Faculty of Horticulture in Bucharest and has a doctorate in agricultural sciences. A founding member of the Romanian Farmers' Association, he is also a former president of Agricultural Producers Associations' League from Romania (LAPAR).
Between 2007 and 2008 he was director of the office of Agricultural Minister Dacian Ciolos [now EU commissioner for Agriculture] and in October 2009 was tipped for the job of Minister of Agriculture.
Radulescu also officially owns 5,000 sqm of land, 89,500 square feet of vineyard, plus shares in 14 companies – mostly farming related.