Society for International Development | March 2011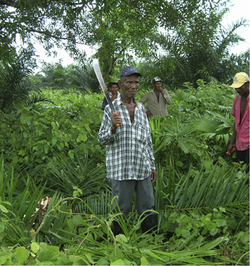 Photo: Laura Fano Morrissey
The dilemma of land grabs and the implications for sustainability.
Development
Volume 54, Issue 1 (March 2011)

The first issue of Development 54 starts the one year debate on sustainability by looking at the dilemma of the current global land grabs in Africa, Asia and Latin America. It engages academics and researchers of the Land Research Action Network and of the University of Utrecht in a hot debate on land speculation today.

The journal issue tackles land, commodity and food speculation. It explores the implications for an equitable and sustainable development and looks at how to ensure that any benefits from foreign land development are passed on to local people.
TABLE OF CONTENTS

Editorial: No More Black Fridays

Illustrates how graphic unsustainability of consumerism and global land grabs as two sides of the same coin
Wendy Harcourt

Introduction: Global Land Grabs: Investments, risks and dangerous legacies
Argues that global land grabs are a continuation of the unjust development with devastating effects on small land holders
Land Research Action Network

Introduction: Rushing for Land: Equitable and sustainable development in Africa, Asia and Latin America

Documents the wide range of different drivers of the global land grab, showing that the process is much more extensive and faster than usually reported in the media

Annelies Zoomers


Thematic Section: Land Speculation, Commodity and Food Speculation
Food Sovereignty and Alternative Paradigms to Confront Land Grabbing and the Food and Climate Crises

Calls for a paradigm shift towards food sovereignty based on genuine agrarian reform

Peter Rosset

Rice Land Grabs Undermine Food Sovereignty in Africa

Exposes the double dealing of governments and business in Africa over rice land grabs

Grain

Development 54: 31-34; doi:10.1057/dev.2010.98

Gender and 'Land Grabbing' in Sub-Saharan Africa: Women's land rights and customary land tenure

Looks at the gender impacts of global land grabs in Africa

Jessica Chu

Contexts and Procedures for Farmland Acquisitions in Africa: What outcomes for local people?

Examines the problem of inadequate compensation for local people in Africa

Lorenzo Cotula and Sonja Vermeulen

La Via Campesina: Peasant-led agrarian reform and food sovereignty

Summarizes the findings of the Agrarian Reform Commission of La Via Campesina

Faustino Torrez

Dialogue: Land Grabs: Implications for equitable and sustainable development
Land in China: Struggle and reform

Describes the land grabs of the current agrarian reforms in China

A C M (Guus) van Westen

Special Economic Zones as New Forms of Corporate Land Grab: Experiences from India

Looks at the impact of land grabs for industrial parks at the expense of agricultural land

Chigurupati Ramachandraiah and Ramasamy Srinivasan

Land Alienation and Sustainability Issues in the Peri-urban Interface of South-West Nigeria

Discusses how to prevent land grabs in Nigeria

Waheed Kadiri and Basirat Oyalowo

Climate Crises: Defending the land

Argues that rural policy to support biodiversity, local knowledge of land and energy saving practices will help prevent climate crisis

Shalmali Guttal and Sofia Monsalve

Local/Global Encounters: Global Land 'Negotiations'
Fuelling Conflicts: Overcoming asymmetry between global interests in Vietnam and Indonesia

Shows how large scale investments are not leading to poverty reduction are sources of conflict

Paul Burgers, Rizki Pandu Permana and Tran Nam Tu

Residential Tourism Causing Land Privatization and Alienation: New pressures on Costa Rica's coasts

Analyzes the struggles over land in Costa Rica

Femke van Noorloos


Whose Lands? Whose Resources?

Describes the impact of land grab deals in Cambodia and Laos

Shalmali Guttal


Monocropping for Agrofuels: The case of Brazil

Reveals the negative impact of agrofuels on the biodiversity of the Amazon and Cerrado

Maria Luisa MendonÇa


'Through their Eyes' – The photo exhibition

Presents images of women's economic activity throughout the CIS and EE region

Karat


Governance, Land and Development

Reviews three important studies with major impact on people, governance and land

Compiled by Giulia Frova and Wendy Harcourt

Books and Reports on Land

Gives annotated descriptions of latest books on land and sustainable human development

Compiled by Laura Fano Morrissey

Window on the World
Window on the World

Features key civil society and social movement networks working on Land

Compiled by Laura Fano Morrissey

Who's Who

Who's Who

Lists contacts and short bionotes of all the contributors

Reclaiming Land and Livelihoods in Colombia: A photo essay

Depicts in pictures the impact of land grabs on peoples' lives in Colombia

Laura Fano Morrissey