Gulf News | 28 February 2011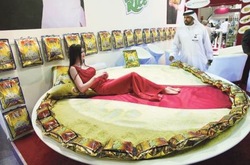 A visitor checks the quality of basmati rice available as a model promotes the brand at Gulfood exhibition, Dubai International Convention and Exhibition Centre (Photo: Virendra Saklani/Gulf News)
By Deena Kamel, Yousef
Dubai: Local food companies are not financially capable of investing in farmlands abroad to grow basic staples that would insulate them from soaring prices of raw materials, they said on the sidelines of Gulfood 2011.
The event was inaugurated yesterday by Shaikh Hamdan Bin Rashid Al Maktoum, Deputy Ruler of Dubai and Minister of Finance, and is the biggest edition in the show's history, organisers say.
Despite growing concern about soaring food prices, many local food companies dismissed the idea of backward integration: investing in farmlands in food-producing countries to secure their raw materials rather than exposure to global price fluctuations in commodities. Most companies import raw materials, then process and package them locally.
But a lack of finance and large enough domestic or export markets means this option is not feasible, they said.
"It cannot happen. Upward integration requires major resources. We need the financial and political back-up to do this and preserve competition," said Mohammad Al Ghurair, Managing Director of Masafi, which also produces fruit juice and potato chips. "Major companies can do this, but the market will not absorb this supply."
Instability abroad
Others fear the risk of investing in countries that may become politically unstable, said Emarn Abu Hamdeh, Operations Manager at Gyma Food Industries, which processes nuts, dried fruits, spices and grains in its Dubai plant. Even industry giants are reluctant.
"We play on our strengths. We're not into farming," said Eisa Abdullah Al Ghurair, Chairman of Al Ghurair Foods, which offers a diverse portfolio including flour, pasta, edible oils, and other products.
Local producers of frozen meat products do not have large enough scale to embark on such investments.
"The demand should be big enough to invest abroad. For big companies like Americana it makes sense. But local companies can easily get supplies from South America," said Jai Prakash, Research and Development Manager at Cascade Marine Foods, one of the subsidiaries of Al Kabeer.
One alternative to this backward integration is storing food reserves in various countries, Al Ghurair told Gulf News.
"If you invest in farmlands in Australia and then floods hit, what do you do?" Al Ghurair said. "Why not hire warehouses and store foodstuffs abroad? If something happens, you have that security."
It would cost more to buy farmland, hire farmers and buy equipment than storing supplies, he said. "I would not advise the government to do it."
However, some food companies see the benefits of such investments.
"If you are under the mercy of raw material prices, then you don't control your business, your business controls you," said Mustafa Sidki, managing director of Ifcco, which owns brands like Tiffany and Igloo.
Long-term pay-off
While there are short-term costs in agronomy investments, logistics and infrastructure, it pays off in the long term.
"You secure the business and control your destiny," he said.
The company is tied in a joint venture with Malaysian agriculture company Felda to grow palm oil on Malaysian farmlands. They co-own an 81,000 square kilometre cattle farm in Australia, and have their own integrated poultry farms in the UAE, he said.
"Many companies are feeling the pinch and the crunch and find it difficult to survive," he said of those that depend on commodity imports.
The way forward is a private-public partnership to secure agriculture supplies overseas, Sidki added. "Now is the time."
More than 1,400 new exhibitors will take part in Gulfood this year. New country pavilions include Armenia, Bangladesh, Morocco, Palestine and Sweden.
Of the 100 countries at the show, Ethiopia, Luxembourg, Malta and Norway will participate for the first time.