World Grain Staff | 23 February 2011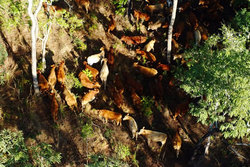 One of Agriterra's cattle ranches in Mozambique, operated by its subsidiary, Mozbife

PORT OF CONAKRY, GUINEA — Agriterra recently announced that it is going to build a 30-hectare industrial and commercial terminal in the Port of Conakry in Guinea. The company said it expects the new terminal to open up new opportunities in the agricultural logistics sector.

Agriterra said the facility will benefit its existing African agriculture business interests by opening up opportunities in the agricultural logistics sector.

Andrew Groves, Agriterra executive director, believes that adding the new port business will help the company to build a "vertically integrated" agricultural and associated logistics group in sub-Saharan Africa.

"This is a fantastic complementary opportunity for Agriterra to expand its activities and utilize its African-focused agricultural, logistics and project management experience to capitalize on the soft and hard commodity resource boom in West Africa," Groves said. "There remain huge global concerns regarding food security which are prompting significant investment in West African agriculture, particularly in palm oil, cocoa, rice, maize and livestock. This, in tandem with the dramatic increase in the development of mineral resources, particularly iron ore and bauxite, means there is a crucial need to expand the export capacity of the Port of Conakry."

The company has now signed a concession agreement, with a 20-year initial term, for the new port terminal. The new terminal will include a 300-meter dock and a 30-hectare platform. It will contain grain storage silos, a processing unit, a preparation unit, a logistics depot, a fuel depot, freight hangars and food storage silos.

The company said a construction partner and project financing will now be sought.

"We will continue to develop our Mozambican grain processing and cattle ranching businesses which are growing rapidly and gaining market share in the region," Groves said. At the moment the Agriterra business consists of two separate grain processing businesses — both in Mozambique — and a cattle ranching business. But the company said it is actively trying to expand through acquisition and investment into new complementary areas.