Gulf News | 8 February 2011
By Samir Salama
Abu Dhabi: The UAE's food security is threatened because of the lack of a crystal clear strategy and food staple reserve, the Federal National Council (FNC) heard on Tuesday.
Mohammad Khalfan Al Rumaithi, Director General of the National Crisis & Emergency Management Authority, told the House an initiative to create strategic food staples, medicine and water reserves would be submitted to the Cabinet by mid-April for approval.
Khalid Bin Zayed, a representative from Dubai, questioned the UAE's readiness to face up to disasters - whether the country would face shortage of food, medicine and water during emegencies.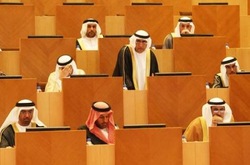 The House asked in November for the government to draw up a plan to minimise the impact of inflation on consumers, voicing concern that inflation in the UAE continues to be the highest in the region (Photo: Gulf News)
Al Rumaithi replied that the UAE has food staple reserve sufficent to meet people consumption for five months and hospitals across the country have medicine reserves to meet the demand for up to six months.
"We have pioneering projects to create water reserves in Abu Dhabi, Dubai and Sharjah and studies are being conducted to link water network to meet the public needs," Al Rumaithi said.

A report worked out by an ad hoc committe said the UAE's food consumption was steadily growing by 12 per cent annually and the demad on food staple increased by 30 per cent due to the increase in the population.
The report also showed that the country imports around 68 per cent of its food, quoting statitics of the Ministry of Economy.
Members of the House demanded a food staple reserve be created to meet market requirement for six months and investment in agriculture be boosted to reach an effective food security.
The debate comes as political turmoil sweeps across several Arab countries and prices around the world rise to an all-time high.
Sultan Bin Saeed Al Mansouri, Minister of Economy, recently told the chamber the UAE was investing in farms abroad, especially in Vietnam, Cambodia, Egypt, Pakistan, Romania and Americas to secure food supplies and protect itself from being at the mercy of market fluctuations.
The minister added that serious negotiations about agricultural investments were ongoing with other countries including Australia and Indonesia.
The report also urged supporting organic agriculture, safe use of pesticides and fertilisers and entering into a strategic partneship with other countries which have successful agricultural strategies.
Dr Abdul Rahim Al Shahin, a representative from Ras Al Kahimah, told Gulf News political unrest in other countries could affect the country's agricultural investments abroad. The UAE and other GCC member countries should draw up a unified food security strategy with the bloc, and not individual countries, investing in farms abroad to minimise risks of political blackmail.
"Who guarantees that food grown abroad will be exported to the UAE in the event of any political unrest or unfair manipulation in an attempt to influence our actions or political stands?" Dr Al Shahin asked.
The GCC bloc could use its leverage to achieve food security and overcome the global and regional turmoil at the beginning of the 21st century, Dr Al Shahin said.
Members of the House recently argued that food prices remained stubbornly high and the relevant authorities had failed to stabilise them.
Hamad Harith Al Midfa, a member from Sharjah, said since the beginning of this year, prices of edible oil, sugar and rice had shot up by 50 per cent and the relevant authorities had failed to stabilise, let alone control, them.
The United Nations Food and Agriculture Organisation (FAO) has warned that inflation in food prices could lead to turmoil in poorer nations that import food.
Dr Sultan Al Moadhen, a member from Fujairah, said agriculture should be encouraged and farms should be increased to produce a higher percentage of our food.
The FNC report also recommended offering subsidies to Emirati fishermen.
Members of the FNC also asked at the end of its term Tuesday that the legislature be given more powers to become a full-fledged legislative council and that more political participation be given to Emiratis.
Sultan Saqr Al Suwaidi, a member from Dubai, said the House must have more powers to scrutinise the Government and take part in the decsiosn taking process and not just submit recommendations which may or may not be implemented.
"It is high time to move on to a full-fledged legislature and take proper decisions to boost political particiation," Al Suwaidi said.
He added political participation is a popular demand and the ceiling has to be raised.
Dr Anwar Mohammad Gargash, Minister of State for FNC Affairs, thanked the members fro their diligent efforts.