Gulf News | 7 February 2011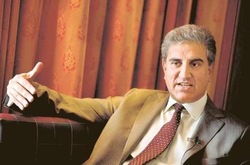 Pakistan Foreign Minister Shah Mahmoud Quraishi told Gulf News that there is a win-win situation in combining Pakistan's richness in agriculture with the GCC's richness in energy resources. (Photo; AP)

Pakistan has proposed setting up a mutual security bloc with the Gulf Cooperation Council (GCC), which is due to be discussed at a meeting in Jeddah next month. It is right that every country should seek to improve relations with its neighbours, and there is no doubt that the GCC wants good relations with Pakistan.

Any discussions should make clear that no such relationship can be exclusive, since the GCC has a variety of interests with all its neighbours, and even if they are in dispute, the GCC needs to work with all its friends, and even seek to improve relations between them if the opportunity arises.

While the Pakistani proposal has a security element, it also includes some interesting and important economic ideas. Pakistan Foreign Minister Shah Mahmoud Quraishi told Gulf News that there is a win-win situation in combining Pakistan's richness in agriculture with the GCC's richness in energy resources.

Many GCC countries have a long history of investing in Pakistan, from both the private and public sectors, and it certainly is true that all GCC states are water-stressed, and rely on expensively produced desalinated water.

Therefore it certainly makes sense for GCC investors to look into agricultural projects in Pakistan, not just for their financial returns but also as nearby sources of food. However, water management of the Indus river basin is going through its own problems at present, and any long-term investor in Pakistani agriculture has to be very clear that they want to promote sustainable use of water and energy, without which the sector (and the investment) will suffer.
This kind of practical economic support may not be the over-arching strategic and security alliance that the Pakistani government is looking for, but it is definitely much where a lot of progress can be made quickly, which provides the essential building blocks from which closer contacts will flourish.