Christian Science Monitor | 6 February 2011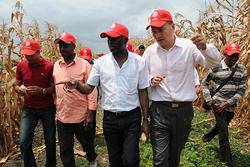 China's CITIC Construction company developed a farm in Luanda, Angola. Pedro Canga, Angolan minister of agriculture, rural development, and fishing (third from l.) checks out a corn field there. (Photo) Wang Bingfei/Newscom

By Scott Baldauf

Mkushi, Zambia

The rolling hills of this part of Zambia were long known for the copper that brought mining companies from the United States, Britain, and China to compete for contracts here. And, in turn, it was known as a jobs mecca for laborers from miles around.

Mozambique bread riots may be warning sign on African food security
Africa's continental divide: land disputes

The unpredictable cycles of boom and bust, supply and demand, ensured that today's success story would soon be tomorrow's padlocked factory gate.

But the food crisis of 2007, when food prices skyrocketed because of growing demand for biofuels, has attracted a very different kind of foreign investor. Where mining executives look at maps and calculate the riches they can extract from shafts 300 feet deep in the ground, the new foreign investors are calculating wealth above ground, in rows of corn and wheat; and their plans envision the creation of tens of thousands of steady jobs and a revival of a rural economy that contributes more to the local community than mining ever did.

"Africa itself is an importer of food, but there is so much fertile land available," says Neil Crowder, cofounder of Chayton Capital, a London-based investment firm that, backed by the World Bank, has invested $10 million in the local Zambian firm Chobe Agrivision to lease 25,000 acres of land in the Mkushi area, with plans for 25,000 more. "Unfortunately, some of the poorest countries in the world pay the highest prices for food, and having farms in Zambia can cut out the cost of transportation, so we decided to set up a model to supply food, mainly maize and soy and wheat, to Zambia and neighboring countries."

It's a model that the Zambian government has welcomed. President Rupiah Banda's administration aims to ease the nation from a reliance on boom-and-bust mining and to improve food security. It's a popular move for a country with a relatively small population and large plots of well-watered lands. And the move enjoys support from local farmers, who see foreign investment not as a threat, but as welcome new attention from government on the needs of farmers.

"According to the census, which is going on now, our population may be in the range of 12 [million] to 15 million, which is not huge, and we have [74 million to 111 million acres] of arable land, the large majority of which is not utilized," says Bradford Machile, Zambia's minister for livestock and fisheries.

Unlike countries like Madagascar and Mozambique, in Zambia there is no major groundswell among local farmers and consumers against foreign "land grabs," Mr. Machile says, in part because there is so much land to go around. "The land is here," he says. "You can't pick it up and move away with it."

Chobe has launched its plan: With corn and soy crops planted late last year and now reaching the harvest stage, Chobe has a 14-year lease from the Zambian government, and expects to hire 3,000 people locally during 2011. Under an agreement signed with the Zambian government, 80 percent of the Chobe crop will be exported to other countries in the region, while 20 percent of it will be sold domestically.
Chobe also has plans to reach out to local small-scale farmers – many of whom will work on Chobe's farms – teaching them the latest techniques to boost their own production. When Chobe builds its own processing mills for wheat, corn, and soy, it will add spare capacity and make that available to local small-scale farmers, so that they can earn more income.

"Four to five years from now, Zambia will be a breadbasket, not only for Southern Africa, but for Africa as a whole," asserts Stuart Kearns, a Zimbabwean commercial farmer who heads up the Chobe operations in the town of Mkushi.

Small-scale farmers would not be able to afford the large pivot-irrigation systems that rotate giant sprinklers in a circle, distributing just the right amount of water for a particular crop, Mr. Kearns says. But they can learn about zero-till farming, which reduces erosion and helps lock nutrients in the soil, boosting production. "Agriculture in some countries is looked down upon; everyone wants to have a white-collar job, but we want to help teach it in the schools before the stigma sets in," he says. "It's a discipleship program, where you work with your employees, and then your neighbors, and then they can propagate that knowledge, and it spreads."

Kearn's partner with Chobe, another former commercial farmer from Zimbabwe, Fred Wallis, drives through acres of well-developed farms to the boundary fence, and points to the small-scale farm fields that lie beyond. Women, bent over, pick weeds by hand. Goats nibble at some of the crops before being shooed away by boys with a hail of small stones. Many of these villagers may be hired and trained soon by Chobe.

"We have an obligation to help our neighbors," Mr. Wallis says. "The government gives local farmers fertilizer inputs; we want to empower our neighbors with knowledge. But when you help people, you have to teach them to help themselves. If you feed a lion, he stops hunting."

Local farmers say they welcome foreign investment, especially if it's done the way Chobe says it will be.

"Our small-scale farmers need help, they need training and new methods," says Emack Kaoma, manager of the National Farmers Union for Central Zambia, based in Mkushi. "Our small-scale farm production has dwindled, because of land management. In a hectare [2.5 acres] of land, you should be able to produce above 10 tons of maize. But here, the average is less than three tons."

Mr. Kaoma says that people are learning to distinguish the difference between mining investors, who come for the quick buck, and agriculture investors, who stay for the long term.

"When the Chinese came here to mine for manganese, they came with their own employees, they took the manganese, and they closed the mine. The people say that is not very good," he says. "But when other investors like Chobe come in, they live like locals, they employ locals, they teach the locals how to farm better, and when [the locals] go back home, they use these techniques. That's the kind of investment we need."