NZ Super starts buying up farms
Published: 03 Feb 2011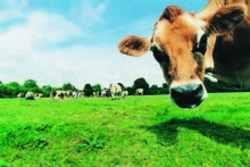 Sold...to New Zealand's sovereign wealth fund, which is buying farmland at home before going abroad
New Zealand Herald | Thursday Feb 3, 2011
By Tamsyn Parker

The New Zealand Superannuation Fund's purchase of a New Zealand farm is just the first of a $500 million plan which will see it invest in local and international rural land.

The $17.43 billion "Cullen fund", set up to help pay for the future costs of retiring New Zealanders, yesterday said it had purchased a 250ha farm in West Otago.

Matt Whineray, general manager of investments for the fund, would not disclose how much it had paid but said it was the first in a number of purchases it hoped to make.

Whineray said up to 3 per cent of the fund or around $500 million had been allocated as part of its rural land strategy although there was no compulsion to invest all the money if the right opportunities did not exist.

"More than half of the investing will be offshore and that will depend on where the opportunities are."

The fund has appointed local company FarmRight to manage its New Zealand investments but is still searching for investment managers to look after the global portion of the allocation.

Whineray said FarmRight's focus in New Zealand would be investment in dairy farms but globally the fund was also considering investment in crop farms.

It will either buy farms outright or take part-shares in them.

Whineray said he expected the returns on the rural land to be similar to its timber investment in which the fund invests around 7 per cent of its money.

FarmRight chief executive officer Jim Lee said it was considering investments in a number of other New Zealand dairy farms and the company undertook a rigorous due diligence process before investing.

"We have got properties in a number of stages in that process at the moment."

But he ruled out investing in either the Crafar dairy farms or buying South Canterbury Finance's Dairy Holdings stake - both of which are on the market as a result of receiverships.

Lee said the company was only interested in individual farm sales rather than a large portfolio.

He understood Dairy Holdings was being sold as a stake rather than individual investment into farms.

However, if it came up as individual farms it would be included in all of the farms considered by FarmRight, he said.

Lee said there had been a pick up in farm buying activity in recent weeks but before Christmas opportunities had been in short supply.

"Prior to Christmas the market was very shallow."

There appeared to be growing certainty of farm prices from buyers and it was also typically the time of year when farms were put on the market in order to get a deal done by the May 31 settlement period typically used by farmers.

"There has been an increase in property on the market. But it is still nowhere near the levels we have seen in the past."

Lee said as an industry dairy farmers were probably overly indebted but not all farms were in that position.

"Obviously there are some farms out there with too much debt. But we are not seeing banks or receivers forcing a sale."

Lee said the dairy payout remained strong and there were indications it would also be strong next year.

FarmRight had been going for about 10 years and typically invested on behalf of private investors and families, many of whom were retired farmers who wanted to invest in farms but did not want to work on them.

He said the Super Fund was the only institutional investor it was working on behalf of.
GOING RURAL
• The NZ Superannuation Fund has bought a West Otago farm from a private seller.
• The farm is 250ha and expected to milk 630 cows.
• Sale price kept confidential.