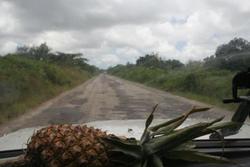 Zambian Watchdog | Friday, January 28, 2011

The Zambia government has given some Saudi businessmen 5,000 hectares of land in North-western province.

The Zambian Development Agency (ZDA) signed off the virgin land to a firm called Menafea Holding.

Zambia Development Agency director for investment promotion, Muhabi Lungu, who is also a son of Home Affairs minister Mkondo Lungu, signed off the land on behalf of the MMD government Friday January 28, 2010.

The beneficiaries from Saudi were so excited with the bounty that they made astronomical promises.

Khaled Alrajhi who represented the Saudi businessmen said his firm would invest invest $125 million in the 5,000 hectare farm during 2011.

He said his firm will grow pineapples and build a factory to produce juice.

He also said that his firm will build 2,000 houses in Lusaka.