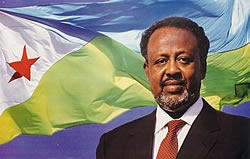 Djibouti President Ismael Omar Guelleh
afrol News | 28.01.2011
afrol News, 28 January - Several African leaders have bought lands in Ethiopia to develop agricultural projects or tourism resorts. They are let to bypass a 2007 ban on export of cereals, still in place for other investors.

It has earlier been known that former Nigerian President Olusegun Obasansjo and current Djiboutian President Ismael Omar Guelleh privately have bought up large properties in Ethiopia. Also the Egyptian Prime Minister managed to buy large agricultural land tracts in Ethiopia on behalf of his government.

However, a US Embassy cable from February last year, released by Wikileaks today, indicates that several of these underreported deals operate in the grey zone of Ethiopian legislation.
Following a food crisis in 2007, Ethiopia "temporarily" banned all exports of cereals. The ban has never been formally lifted. Still, both the Egyptian government project and Djiboutian President Guelleh have been allowed to export cereals cultivated on the lands sold to them by the Ethiopian government.
"It appears Saudi, Djiboutian, and now Egyptian investors have somehow bypassed this ban," the US Embassy report from Addis Ababa said. Meanwhile other investors had informed Embassy staff "that they have not been allowed to export cereal grains."

President Guelleh recently acquired the right to develop about 2.5 acres of lakeside land in Debrezeit to build a hotel. This acquisition added to the 7,400 acres of farmland Mr Guelleh leased in 2009 in Bale, Oromia region. "According to post's conversations with local agricultural business investors and press reports, this farm has already harvested wheat and other cereals for export to Djibouti," the report said.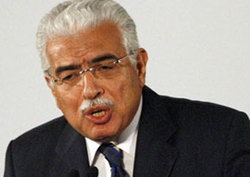 Former Egyptian Prime Minister Ahmed Nazif
The Egyptians had followed the same path, according to the official US source. Egyptian Prime Minister Ahmed Nazif, heading a large top-end delegation, last year announced that the state-owned National Bank of Egypt planned to invest US$ 40 million in the lease of 49,400 acres of land in the Afar region to grow cereals. Also these cereals "would be exported to Egypt," it was noted.
The US diplomat also noted that the Egyptian National Bank also was "poised to open an office in Ethiopia" and to offer credits to six Ethiopian banks. But, the domestic banking sector is closed to foreign banks. "It is unclear how the National Bank of Egypt could offer credit in Ethiopia in evident violation of banking and financial regulations," the US Ambassador notes.
Other recent major investors in Ethiopian agricultural land had included the South African private equity fund Agri-Vie. The company had acquired 3,000 acres of land and company was last year already in the process of establishing fruit production and processing operations. The company was to target the juice markets in Europe and the Middle East.

Among the most prominent investors in Ethiopian lands was Nigerian ex-President Obasanjo, whose actions were keenly followed by US Embassy staff, the report reveals. Mr Obasanjo had "recently leased about five acres of land near Debrezeit, Oromia region (about 50 kilometres east of Addis Ababa) to develop a hotel and tourist destination," the report said.

The US Ambassador also discussed the criticism against the land grab in Ethiopia, with several claiming it would further jeopardise the critical food security situation in the country. He however agrees with Ethiopian authorities that a commercialisation of the agricultural sector and foreign investment were necessary.

Nevertheless, he commented that Ethiopia's new land lease policy was "a long way from proving its worth as a vehicle" for the national economy. It was not "generating foreign exchange reserves" at a larger level, indicating the prices achieved in the deals brokered by Prime Minister Meles Zenawi himself were too low.

By staff writer