The New Zealand Farmers Weekly | 10 January 2011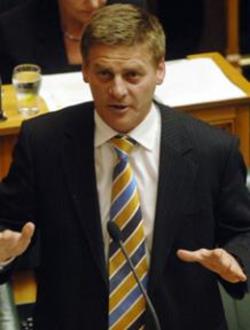 New Zealand's Minister of Finance, Bill English
by Marie McNicholas

Finance Minister Bill English says the new test of more than 10 times the average farm size set last month for foreigners wanting to buy land is not a cap and there is still ministerial discretion to approve bigger sales if other tests are met under the overseas investment rules, or conversely, to refuse smaller-scale applications.

"It's our position on what amounts to undue aggregation.

"And it's not legislated so it is able to be altered," he told New Zealand Farmers Weekly.

English took a report to a Cabinet committee in November to revise overseas investment regulations that proposed defining a "large" area of farmland as more than double the average farm size, by type of farm, according to Cabinet papers.

However, the final definition emerged from Cabinet's economic growth and infrastructure committee as 10 times the average farm size. That puts the threshold for buying a dairy farm at 1720ha, based on the average dairy unit, and 4430ha for a sheep farm.

The committee, chaired by English, includes Prime Minister John Key, Economic Development Minister Gerry Brownlee, Agriculture Minister David Carter, Environment Minister Nick Smith and Maori Affairs Minister Pita Sharples.

English said the first figure was put forward "on no particular basis" by officials for discussion and he discussed it with his colleagues extensively before it went to Cabinet.

The concern was about the effects of aggregation rather than how it was calculated, he said.

"It gives a signal to investors ... if you are doing a large-scale purchase then it will be scrutinised more closely than a small-scale purchase."

The new regulations were struck three months after the Government redirected a long-running review of overseas investment rules after sniffing the political wind on the Crafar farm sales and the heightened concern about foreigners owning vertically integrated businesses.

Chinese-backed Natural
Dairy had aspired to including the Crafar properties in a wider dairy supply, processing and export empire.

The Government declined the applications before Christmas.

The review began nearly two years ago with English complaining then that regulations were too cumbersome and costly and the tests too many. In mid-2009 he trimmed red tape as an interim measure to speed up the process.

But the final outcome has produced two extra criteria for judging applications.

These economic interest and "mitigating" tests are designed to give ministers more flexibility when considering foreign bids to buy sensitive land.

The first is to help ministers consider if an application adequately safeguards or promotes NZ's economic interests.

The second seeks to take into account how an overseas investment might provide for meaningful Kiwi oversight or involvement - such as headquartering in NZ, having local directors or NZX listing.

The Overseas Investment Office has been explicitly instructed to give these economic interest and mitigation factors "high relative importance" when considering bids to buy large areas of farmland.

The threshold for large farms covers both single transactions and several over time and the OIO can take into account other farmland the buyer might already own.

The economic interest measures include whether NZ will become a more reliable supplier of primary products and whether its ability to supply product that forms an important part of the country's export earnings is less likely to be controlled by a single overseas person or associates.

It also includes whether NZ's strategic and security interests will be enhanced.

The Cabinet papers "envisage" this will be applied to consider whether there are non-commercial motivations driving a foreign investment.

In the same paper, English makes clear that the new factors alone cannot be used to decline an application and they would be weighed against the contribution an investment makes to the 19 other criteria.

Although the new rules are not binding English said they will be measured by how investors perceive them.

"And I think their perception is that the rules have tightened somewhat."

The policy was relevant at the moment because as well as the Crafar farms 58 Dairy Holdings farms could be coming on the market as a result of the South Canterbury Finance receivership and there was also speculation about Carter Holt Harvey's 29 dairy farms.

"We tried to give a signal that it will be scrutinised without creating too much disruption in the market because having those three large farms sitting over the market could have some effect on it."

Taking an extreme position of shutting down overseas investment could be quite disruptive in a market with high debt and low sales.

"And we think we have struck the right balance."

The whole debate had made it clear NZers wanted to be careful about large-scale foreign investment in farmland.

"I think it is a legitimate concern."

Federated Farmers has spent six months' reviewing its policy on overseas investment.

Before the new position was finalised President Don Nicolson said the OIO's two new tests were not too out of synch with the federation's view.

It was wary of unnecessary constraints being placed on an open rural real estate market but it wanted good enforcement of the conditions applied to sales, he said.

Generally there was more concern about the potential to lose control of NZ "value-add" from foreign-controlled, vertically integrated businesses than about land aggregation by foreign buyers, he said.

He was not sure what the Government based its 10-fold threshold on.

A 1700ha dairy farm would on average run 3500 cows, Nicolson said, and there were a number of farms milking more than that, including many owned by Maori incorporations.

But at least the threshold offered overseas investors some certainty and consistency, he said.

Labour's overseas asset sales spokesman David Parker thought the threshold was too high and questioned how many farms were 10 times the average.

The test would be whether the Government ever used the threshold to decline a farm sale, because it was not bound to, he said.

The Government already had wide discretion to decline applications. "They just don't exercise it".

Labour has recently rewritten its policy to severely constrain ministerial discretion on farm sales to foreigners to ensure most applications are turned down.

Parker said the land area threshold simply gave the Government more criteria when it was tighter discretion that was needed.

"If they wanted to turn them down, they already can, they just don't," he said.

Greens co-leader Russel Norman noted that while the new threshold was big enough to catch the Crafar parcel, rejection did not necessarily follow.

But he said anything that moved towards the Greens' position was welcome.

"It's just not doing enough."

The Greens want stringent control on land sales to foreigners, with a 5ha limit.

Norman said the issue still required political pressure because the Government did not particularly want to apply the new rules.