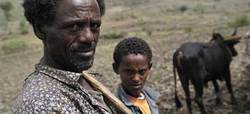 Ethiopian farmer Yimer Aliyu with 13-year-old son Habibe. Foto: Magnus Aronson/IKON
Svenska kyrkan | January 2011

New report on about hunger, food, trade and global solidarity

Reducing inequality is the key to reducing world hunger, according to author Peter Einarsson.

More than enough food is produced today, but climate change and unsustainable production systems threaten to reduce the productive capacity of the world's farmland. At the same time, competition for land increases as world population grows, eats more meat, and uses more biofuels.

Why is one person in six unable to get enough food? What is the role of agribusiness and of global trade rules? How do world leaders address the hunger problem? And how can farming in poor countries be developed so that the right to food is assured, now and in the future? The author gives his interpretation of the events of the past few years and points to possible solutions. There is also an impressive reference list and suggestions of further readings for the one who wishes to know more.
The report which is published by Church of Sweden, Swedish Cooperative Center and Forum Syd can be downloaded here: http://www.svenskakyrkan.se/default.aspx?id=643494