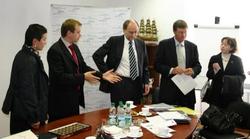 Bloomberg | Jan 12, 2011
By Kateryna Choursina

Ukraine's biggest agriculture companies will probably raise $1 billion from share placements this year as they pursue expansion, according to the Ukrainian Agribusiness Club Association.

At least four agriculture companies with total land holdings of 600,000 hectares (1.48 million acres) will participate in share placements in Warsaw this year while others will raise funds in London and Frankfurt, Alex Lissitsa, president of the Kiev-based industry body, told reporters in Kiev today.

"It is going to be very hard" to attract investment while grain export quotas remain in place and until there are changes to land ownership regulations, Lissitsa said. Legislation prohibits farmers from selling agricultural land. Parliament will consider in March a draft law that would open up the possibility of agricultural land sales, Lissitsa said.

Following changes to the law, there may be "a great inflow of money" to Ukrainian agriculture, Lissitsa said, adding that the country may have a land market in 2012.

The government may continue limits on grain exports, introduced in October, extended in December and in effect until the end of March, Lissitsa said. Much will depend on how well winter grains fare through the winter, he said.