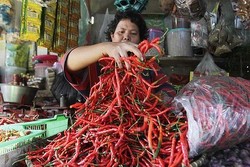 The government is encouraging Indonesians to grow their own chilli peppers to help fight food inflation
Xinhua | January 11, 2011
Indonesia's Coordinating Economic Minister Hatta Radjasa said here on Monday that the government intends to expand agricultural areas by 2 million hectares within mid- and long-term with part of it would be conducted in Merauke, Papua province.

"That is part of the government's medium and long-term plans. This year, we will take the first step by adding 500,000 hectares to the existing agricultural land area," the minister told governors attending a coordination meeting here. He added that that project would be implemented in Merauke, Papua.

"In 2011, our target is an expansion by a minimum area of 500, 000 hectares. It would be materialized in the opening of food estates by the private sector and the community," he said.

According to the minister, many investors had pledged their interests in the food estate concept, adding that the government had already provided them with the needed licenses.

Hatta said the creation of more food-producer regions needed would be sped up so as to make government capable to secure food supplies in the country. "We can speed up the materialization of the food estate concept since there is no apparent spatial problem in Papua province. We need to see food producer regions opened soon and it would be the task of agricultural ministry," he was quoted by the Antara news service as saying.

According to Hatta, the central government needs to work with regional government in settling the possible problems that could hinder the implementation of food estate concept.

Besides expanding the farmland plans, the government also invited foreign investors to develop animal husbandry, aimed at securing livestock supplies.