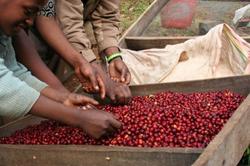 Press Trust of India / Mumbai January 06, 2011

Vadodara-based ACIL Cotton Industries today said it plans to invest nearly $15 million (Rs 68 crore) to start contract farming of crops like pulses and coffee in Brazil, Congo and Ethiopia.

"The company is expecting the potential large profits that it plans to invest nearly $15 million in its Congo, Ethiopia and Brazil agricultural operations," the company said in a filing to the Bombay Stock Exchange (BSE).

The farming of crops including coffee, pulses, oilseeds, cereals, potato, sugarcane and vegetable would be undertaken on lease-hold agricultural land in these countries, it said.

ACIL also said that it will set up subsidiaries in these three countries and a consultant will be appointed to prepare a feasibility report on the planned agri-business.

Quoting reports about the land lease project of Ethiopia, the company shared that the Ethiopian government is offering fertile farm land to local and foreign investors at a give away rates in an effort to introduce large-scale commercial farming in its country.

The company's share closed slightly lower at Rs 3.89 on the BSE.