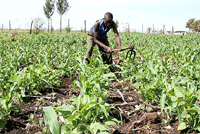 Reuters | 4 Dec 2010
Riyadh
Zambia does not regard leasing farmland to foreign investors as a form of 'colonialism' and is encouraging Gulf countries to invest in its agricultural sector, its finance minister said on Saturday.
Foreign acquisitions of agricultural land in developing nations have provoked opposition among indigenous farmers and led the United Nations to voice concern over the lack of agreed guidelines to protect farmers rights.
But investors and governments in developing countries say that such deals usher in a 'win-win' situation by boosting food security for all parties involved.
'This is not colonialism,' Zambian Finance Minister Situmbeko Musokotwane told reporters on the sidelines of an industry conference in the Saudi capital Riyadh.
'Colonialism is like when you come with a gun, then you say you are under my control. But this is investment, there is nothing wrong with that,' he added.
Zambia allocated two major farm tracts last year, each over 100,000 hectares in size, to be divided between foreign and local farmers to grow cash crops. But the roll-out has been hindered by delays in putting up infrastructure on the sites.
'We have a lot of agricultural space and we can accommodate [Gulf investors] on a large scale,' said Musokotwane.
So far, Zambia had only signed a few small farmland deals, and is looking to attract more foreign investment into the sector, said Musokotwane.
'We are in talks with a private Saudi company that wants 5,000 hectares to grow fruits and also build a factory to produce juice,' he said, declining to reveal the firm's name or give details on the deal value. 'We hope to have things settled (in) three months time.'
Buying land in countries that can barely feed themselves and exporting produce from them has exposed investors to popular unrest and political disapproval in their target countries in the developing world.
In Madagascar, a move by South Korea's Daewoo Logistics to lease an area of land larger than Qatar to grow food for export contributed to the unpopularity of former president Marc Ravalomanana, who was toppled in 2009.-Reuters