Reuters | 1 November 2010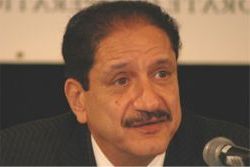 Saudi-based agricultural investment firm Agroinvest, which plans to raise 1 billion riyals ($267m) in January, will focus on its home market before any expansion abroad, its chairman said on Monday.
Agroinvest, or the International Agriculture and Food Investment Co, is among the biggest of many private firms involved in foreign farm investment that have been set up in the kingdom as import-reliant Gulf Arab countries have started buying or leasing land in developing nations to ensure food supplies. Usamah al-Kurdi, who chairs Agroinvest's founding committee, said his firm would focus first on opportunities in poultry, fisheries, shrimp, green house business and trading of food products.
"There are tremendous food opportunities in Saudi Arabia," he told reporters on the sidelines of a food security conference.
At some later stage, the company could raise another 1 billion riyals to pursue opportunities abroad but is waiting for more details on a government initiative encouraging firms to invest abroad.
"First we focus on Saudi Arabia," Kurdi said.
Top OPEC oil exporter Saudi Arabia, which abandoned a wheat cultivation programme due to dwindling water resources, has emerged as a major buyer of wheat from global markets and is trying, with the help of private Saudi investors, to secure farmland in Africa and elsewhere.
Last year, Riyadh set up a company with capital of SR3bn to invest in farmland abroad, focusing on wheat, rice, sugar and soybeans. Stat