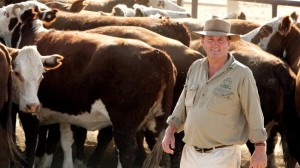 The Australian | 30 October 2010
by Martin Kelly
Now the dust has settled on last year's corporate raids on cattle stations, it's clear agriculture remains in the ownership of farming dynasties
FEARS that faceless corporations and international investors would become the new barons of the Australian bush have proved to be unfounded, with rural land ownership still dominated by family farming dynasties.
Concerns were sparked by an unprecedented buying splurge early last year led by aggressive new players Macquarie Group and British private equity company Terra Firma Capital Partners. Between them, these two companies spent $740 million buying up vast chunks of northern Australia.
Other buyers were also active and, during the frantic first three months of last year, more than $1 billion was outlaid on 30 cattle stations as investors rushed to invest in beef.
In the two biggest deals, Macquarie Pastoral Fund paid $315m for six properties, while Terra Firma bought the Packer family's Consolidated Pastoral Company holdings for $425m.
Start of sidebar. Skip to end of sidebar.
End of sidebar. Return to start of sidebar.
These transactions capped an incredible run that started with the $490m sale of the massive Stanbroke portfolio by AMP in 2003 to a consortium including individuals Peter Menegazzo, Jack Cowin, and Peter Hughes.
At one stage it seemed as if the good times would never end but it now appears certain early last year marked a high point the cattle station market may never see again. Now the dust has settled it is clear -- emotion aside -- agriculture remains a family business.
Latest figures from the Australian Farm Journal show six of the present top 10 Australian landholders are families. At least two of them -- the Kidman and MacLachlan clans -- have been involved in the industry for more than 100 years.
Australian Farm Journal editor Patrick Francis says families also dominate cropping and wool growing. He says there's no need to panic about international and corporate investment in the Australian rural scene.
"The anxiety expressed fails to recognise that the coming and going of overseas investors has always been part of our history," he says.
Francis says key farming families have been significant players in the aggregation of cropping properties in the past few years. Aggregation has been the driving force in the rural sector for many years, with the goal to achieve economies of scale and diversification in terms of climate and usage.
"There's a growing number of larger-scale, multiple-property family farms now, brothers owning and operating them as a conglomerate," Francis says. "The overseas speculators aren't really buying farms that much.
"Corporations are more interested in the agribusinesses like sugar and flour mills."
That said, Paraway Pastoral Company, the operating entity of the Macquarie Pastoral Fund, has been by far the most acquisitive of the big players this year.
Now rated the 10th largest Australian landowner, in August Paraway bought the Buttabone, Cooinbil and Mungadal cattle and sheep properties in NSW for a figure estimated to be between $70m and $80m. Otherwise, there has been little change.
Sure as night follows day, the Kidman family continues to reign as Australia's top rural landholder, despite the sale of the 1.2 million hectare Quinyambie Station in South Australia.
The legendary northern Australia cattle empire founded by industry notable Sidney Kidman in 1899 controls an incredible 11 million hectares in Queensland, SA, Western Australia, Northern Territory and NSW.
The Kidman holdings dwarf the next biggest landowner, Australian Agricultural Company, which has 6.7 million hectares concentrated in the Territory and Queensland.
Other family empires in the top 10 include those run by David Brook, Don McDonald, Pam Deamer and Sterling Buntine.
All of them are in cattle, all have more than three million hectares.
Another big private player is the MacLachlan family, which continues to dominate wool growing through Jumbuck Pastoral, founded in 1888, which also has cattle holdings.
Jumbuck is run by brothers Jock and Callum MacLachlan, the fourth generation of their family to work in the business, which has 3.54 million hectares across three states.
Apart from AACo and Paraway Pastoral, other corporations in the Top 10 include North Australian Pastoral and Consolidated Pastoral.
Cropping concerns remain largely family owned and operated.
Ron Greentree is Australia's largest cropper, mostly wheat with some cotton, based in the northwest of NSW.
Other big names include the Nicoletti family, the Joyce family and the Harris family. The Dowling brothers have been fast movers this year and have 28,000ha under crop to wheat and barley.
Sheep farming is also family dominated. Apart from the MacLachlans, the Brinkworth, McBride, Field and Coventry families are big players.
So, now that the cattle boom has run its course, what lies ahead for the rural sector? Overall, the market is slow despite drought-breaking rains across eastern, central and southern Australia that have nurtured winter crops and filled paddocks with feed.
However, the truth is that while confidence has returned to agriculture, many farmers are broke after years of drought.
Their financial future depends on a bumper 2010-11 crop and until that money is through the door, buying a property is the last thing on their minds. "There's feed up to the cattle's stomachs; most properties in this area are looking the best they have for 15 years or more," says David Shuter from Herron Todd White in Albury on the NSW-Victorian border.
"But, while we're having a most phenomenal season now, people borrowed a lot of money just to survive and are not in a buying mood at the moment."
He says all six properties in the Holbrook, NSW, district that went to auction recently were passed in, five of them without a genuine bid.
This story is being repeated throughout regional Australia. Near Rockhampton, Queensland, for example, the Central Highlands Regional Council reports that just five properties above 1000ha sold in the year to the end of August.
The yearly average since 2005 has been large: 27 property sales a year for the district. In reality, northern cattle stations aside, it has been a buyer's market since early 2008. That's when banks started pulling back on credit after a booming five years with prices doubling in some markets.
Those days are long gone, however.
Now there are far more sellers than buyers, with a gulf between price and expectation, especially for the smaller properties.
There are also issues selling large holdings. In particular, banks are making it tougher to access credit.
This has forced the British-based Swire Group to switch strategy on the sale of Clyde Agriculture.
Swire originally put the diversified 12-property portfolio -- encompassing sheep, cattle and cropping -- on the market for $300m in April.
But a buyer failed to materialise and managing director John McKillop decided to sell each individually.
"The interest is predominantly from what I'd call family corporates and there are a couple of companies interested," McKillop says.
"I'd describe the market as reasonably flat, although grain-growing properties are selling quite well."
The real issue is with irrigated properties. "You might as well say they've got leprosy, no one wants to touch them," McKillop says.
"They're probably 30 per cent off the peak in 2004-05 when people were still buying despite the drought."
Two of the 12 Clyde properties were withdrawn from auction earlier this month due to lack of interest and two more are due for auction on November 25. Similar issues have affected the sale of Carrington Farms, one of Australia's biggest rural holdings.
With an asking price of more than $300m, Carrington Farms is a huge NSW and Queensland cropping concern -- mostly cotton but with wheat-growing potential -- that has been on the market for six months.
Despite the delay, David Wells from Falcon Corporate Advisory remains confident of a sale. "We still have parties that are in the process of raising funding and we expect it to be concluded very soon," Wells says.
"There has been interest from private individuals but the parties we are talking to are corporations."
Wells says there is no intention at this stage of breaking up the properties and that the vendors -- the Marchant family -- are relaxed with the present approach.
"There's been lots of rain, a significant positive cash flow, and the focus is on finding the right buyer," Wells says.