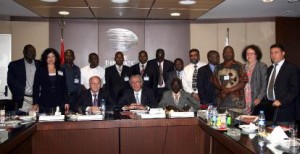 Hürriyet Daily News | Monday, October 4, 2010
ISTANBUL - Daily News with wires
Fallow land in Africa presents a fantastic opportunity for Turkish businesspeople involved in agriculture, a Ugandan member of a cotton delegation visiting western Turkey said Monday.
"Uganda has around 4.9 million acres of agricultural land that sits idle," Richard Parwot said. "We have demand from many countries. Turkey should not come late in using our fertile land."
The cotton sector representatives from Uganda, Tanzania and Zambia were visiting the Aegean province of ?zmir as part of an event organized by the United Nations' International Trade Center.
The delegation, which is scheduled to visit cotton fields, spinning mills and ginneries in ?zmir, first paid a visit to the Aegean Exporters' Union on Monday.
Addressing the African delegation, Jak Eskinazi, deputy chief of the Aegean Textiles and Raw Materials Exporters Union, said the technology and know-how that Africa needs could be found in Turkey.
"As demand rises, cotton prices are surging," Anatolia news agency quoted him as saying. "Under such circumstances, it would be meaningful if African nations produce more cotton. Still, this cotton is not preferred as much due to quality issues."
Need to hike production
"As demand for cotton rises, India and Pakistan are cutting their exports," Eskinazi said. "African cotton should be an alternative. We have the potential to produce 1 million tons in Turkey. Both Turkey and Africa should hike production."
Parwot, meanwhile, said Turkey has been "late" in opening up to Africa, noting that his country was open to leasing agricultural land to foreign investors.
Those who came to rent land in the past have "exploited the people," Parwot said. "The Chinese were very interested, but their practice was different than what they said it would be before."
The International Food Policy Research Institute estimates that 15-20 million hectares of land in poorer countries that have been valued at $20-30 billion have been subject to transactions or talks since 2006. According to data from the Genetic Resources Action International, Chinese companies either lease or own over 4,000 hectares of land in Uganda.
Meanwhile, Sabahattin Gazanfer, an advisor at the Turkey Textile and Raw Material Sectoral Board, said direct flights to Uganda and Tanzania by Turkish Airlines presented a great opportunity for Turkish businesspeople to do trade in the region.