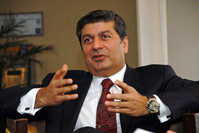 Bloomberg | Sep 29, 2010
By Jacob Greber and Angus Whitley
Emirates Investments Group LLC, a United Arab Emirates-based investor, is looking to buy food and agricultural assets in Australia and New Zealand as global demand climbs, Chief Executive Officer Raza Jafar said.
"We've started exploring and we're going to explore across the board, in Australia and New Zealand and this entire region," Jafar said in an interview in Sydney today. "We are very nimble, and we can react fast to good opportunities."
Australian companies worth a combined A$45.6 billion ($44 billion), including wine and beer maker Foster's Group Ltd., have become takeover targets in the face of a global food and energy shortage, Royal Bank of Scotland Group Plc said two weeks ago. While privately held Emirates Investments isn't seeking to buy Australian energy assets, "food and agriculture would remain of interest to us," Jafar said.
There is "long-term growth possibility in this industry, because food security is becoming an issue," Jafar said.
Emirates Investments, which already holds Australian assets such as a stake in the Palazzo Versace luxury hotel on the Gold Coast in Queensland state, has appointed external advisers to help it find local opportunities.
"I've just asked the team to continue looking at it and give us a report on what would be the best areas to partner with," said Jafar, who is participating in the Forbes Global CEO Conference in Sydney this week.
Jafar declined to detail the size of any potential investment and said "sometimes it's cheaper to buy the company than the asset of the company" and "sometimes it's the other way around."
Conditions Are Right
Sydney-based RBS analyst Greg Goodsell said in a Sept. 15 report that conditions are right for takeovers of Australia assets, as the worst of the economic slowdown has passed, a double-dip recession in the U.S. is unlikely and it's easier and cheaper to raise funds. Asset values are also yet to bounce back to previous highs, he said.
Foster's, with a market value of A$12 billion, is the largest target on an RBS list of dozens of buyout candidates. The company plans to spin off its winemaking unit and this month rejected a private equity bid for that business.
In the agricultural industry, GrainCorp Ltd., eastern Australia's largest grain handler, may be bought by an overseas rival, RBS said. AWB Ltd., Australia's largest wheat exporter, has already fallen to a foreign buyer, after GrainCorp's all- stock offer for AWB was last month rejected in favor of a cash bid from Canada's Agrium Inc.
Maryborough Sugar Factory Ltd. and Warrnambool Cheese & Butter Factory Co. may also be bought, Goodsell said.
Emirates Investments may work with one of its Australian partners, TFS Corp Ltd., the Perth-based manager of a sandalwood plantation, in making further local investments, Jafar said.