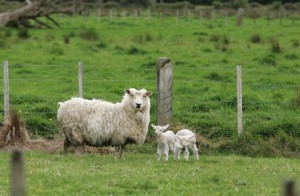 Associated Press | 27 September 2010
New Zealand's government announced on Monday it will place new controls on overseas investors buying large land holdings.
It is a reaction to growing public concern that the country is selling too much farm land to foreigners.
New measures to assess the merit of foreign investment in sensitive land will include a test to allow Cabinet ministers to consider whether New Zealand's "economic interests" are adequately safeguarded and promoted.
"They're designed to reduce our vulnerability to large-scale alienation" of farm land to offshore buyers, Finance Minister Bill English said.
The review of foreign investment in the economy comes amid widespread concern sparked by Hong Kong-based company Natural Dairy's bid to buy 16 farms covering nearly 8,000 hectares in the country's central North Island. New Zealand's economy is based on agriculture with dairy products alone accounting for about a fifth of exports.
The outcome of Natural Dairy's bid will not be affected by the new controls, because they will come into effect from December.
Last month a "Save the Farms Group" warned that foreign buyers were lining up to buy New Zealand land, with spokesman Tony Bouchier saying the government needed to take urgent action.
English said the economic interest test was "fairly broad" but New Zealand still needed foreign funds to aid its economy. "We need to maintain a country that's attractive to foreign investment," he said, while protecting assets "that really do matter to New Zealanders."
A new "mitigating factor" test will allow ministers to decide whether a foreign investment bid provides enough opportunities for New Zealand interests to have oversight or involvement, English said.
A number of large, aggregated land holdings likely to come onto the market in the next few years could generate a lot of overseas interest, he said, and the new controls would clarify how the government would respond.
A new ministerial directive to the Overseas Investment Office would provide extra clarity and certainty for potential investors about the government's general approach to foreign investment in sensitive assets.
The Office has yet to make a decision on the Natural Dairy application.
Office figures show 235 consents for foreign investors to buy more than 150,000 hectares of farm land were approved between July 1, 2005, and July 1, 2010.
Some 60 approvals were for buyers from the United States, 36 from Britain, 24 from Australia, and nine from Asian countries.